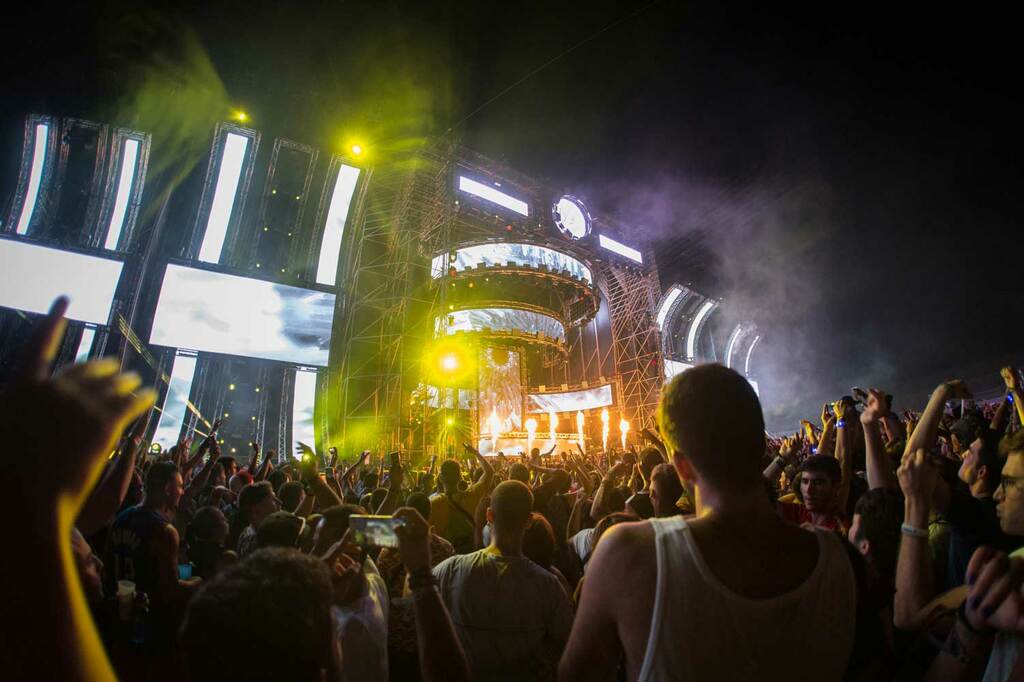 MAY 10TH, 2018
Dreambeach desvela su programación por días.
El festival almeriense (8-12 de agosto) agrupa en las mismas jornadas a los artistas de Hip-hop, Hardstyle, Trance, Dubstep y Drum & Bass para facilitar la compra de entradas por días
Dreambeach Villaricos ha desvelado hoy la división por días del cartel de su sexta edición (8-12 de agosto), en la que aspira batir todos sus récords con más de 150.000 asistentes y un espectáculo musical y tecnológico único. El criterio de distribución ha perseguido confeccionar un programa que vaya de menos a más y también agrupar en las mismas jornadas a los artistas del mismo estilo. Así, se facilita a los dreamers que son fanáticos de un género en concreto (Hip-hop, Hardstyle, Trance, Dubstep o Drum & Bass) la asistencia en días sueltos. Paralelamente, las entradas por días han salido hoy mismo a la venta.
Jueves: Axwell /\Ingrosso, Hip-hop y b2b
En la jornada inaugural del 9 de agosto, los protagonistas del Main Stage serán Axwell/\Ingrosso, Don Diablo y Timmy Trumpet, y será el día en que brillara el Hip-hop de la mano de Kase.O, Natos y Waor, SFDK y la Mala Rodríguez. La Dreams Tent, la gran carpa dedicada al Techno, se abrirá con una jornada completa de sets back to back (b2b), con dúos tan prometedores como Ben Sims b2b Truncate, Oscar Mulero b2b Lewis Fautzi o Pa- trick Topping b2b Skream, entre otros.
Viernes: Martin Garrix, Hardstyle, Yellow Claw y Dubstep
El 10 de agosto, el Main Stage será tomado por las altas pulsaciones del Hardstyle (Brennan Heart, Coone, Da Tweekaz…) e iconos del EDM como Martin Garrix, Alan Walker, Nervo, Chocolate Puma y Will Sparks. El escenario Open Air albergará el showcase de Yellow Claw y su Barong Family, y el line-up lo completarán guras del Dubstep como Seven Lions, Slushii, Virtual Riot y Skism, que se incorpora al cartel en sustitución de Epic, que ha cancelado por motivos de agenda. Ese mismo día, los amantes del Techno verán un desembarco apabullante de leyendas: Richie Hawtin, Ricardo Villalobos, Maceo Plex, Paco Osuna, Loco Dice, The Martinez Brothers…
Sábado: Hardwell, Trance, Drum & Bass y apoteosis technera
El 11 de agosto, des larán por el Main Stage nombres como Hardwell, KSHMR, Kura y Sunnery James & Ryan Marciano, junto a live acts de corte Trance como Ace Ventura y Vini Vici. Los amantes del underground ten- drán que escoger entre dos carpas. En la grande, Jamie Jones, Solomun y Tale of Us como cabezas de cartel; en la pequeña, la puesta en escena de Red Planet, un nuevo concepto temá co y ornamental dedicado al Techno más duro con invitados como Horacio Cruz, Blawan y Raffaele Attanasio. En el Open Air, la locura para los acé- rrimos del Drum & Bass llegará de la mano de Kings of the Rollers, Andy C, Killbox o Black Sun Empire.
Próximamente se desvelará el line-up del área de acampada, el hogar durante el fes val de cerca de 30.000 personas, y también de la Pool Party. La zona de la piscina, que este año será ampliada hasta 60×30 metros y se le añadirán camas balinesas y nuevos lujos, tendrá una programación independiente.