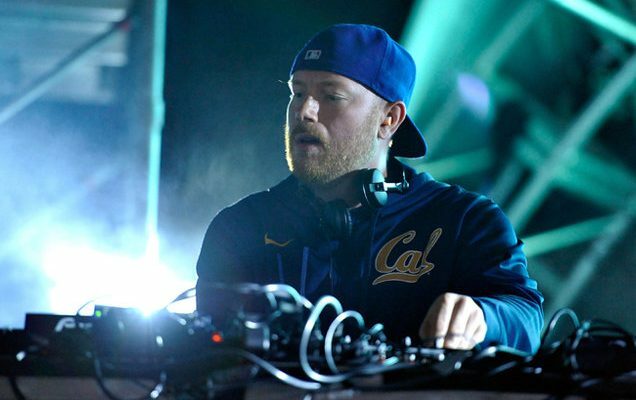 Hï Ibiza announces weekly lineups for Eric Prydz residency
Ibiza Global Radio
Wednesday, 19 April 2017
4096 Views
0 Comments
As we inch closer to the launch of Ibiza's newest superclub, Hï Ibiza, more exciting news about the highly anticipated debut Ibiza residency of Eric Prydz comes rolling in. Today, the weekly program has been confirmed, with Prydz handling duties in the Theatre (Room 1) with guests including Agoria, Deadmau5, Dusky, and Matthew Dear, while Andrea Oliva & Friends take control of the Club (Room 2) with Pete Tong, Butch, Nick Curly and many others.
THEATRE (ROOM 1) – ERIC PRYDZ
Eric Prydz takes over Tuesdays at Hï Ibiza for 10 weeks from 20th June to 22nd August, in what will be his first ever Ibiza residency, debuting a bespoke production, specifically built for Hï Ibiza.
Joining Prydz in the Theatre at the opening party is French DJ, producer, composer and label owner Agoria,  a man as capable of producing intricate, emotional, melodic house and techno hits as he is at hands-up, crowd-rocking DJ sets. Polish chunky house heroes and Pets Recordings label heads Catz 'N Dogz have captivated audiences at festivals like SW4, Parklife, Bestival, Snowbombing, and BPM with their unique and hypnotising sound, which they'll bring to the Theatre this June. 
Newcastle-based DJ and producer Cristoph might be newer to the scene, but he's made big waves with productions on labels like Truesoul and Knee Deep in Sound, and this summer he'll play five times with Prydz, including the opening party. A man who hardly needs an introduction, Canadian mega-star deadmau5 will join Prydz twice, including the August closing party, for what are sure to be sell out shows. And world-conquering UK duo and 17 Steps honchos Dusky will bring their powerful, emotive, main room sounds in July for what promises to be an unforgettable night of music. 
No stranger to the island, Kölsch has become one of Ibiza's most popular DJs as of late, one that's also catapulted him to the upper echelons of festival bills around the globe, while his albums and EPs have sold millions of copies worldwide. He plays on 11th July, while American innovator and experimentalist Matthew Dear brings his inimitable skills on 8th August. One of today's most successful techno duos, Pig&Dan are no stranger to the charts, regularly reaching the Beatport Top 100, and their musical prowess will be on full display this July.
Prolific German team Tube & Berger have spent a career producing techno and house hits for labels like Suara, Kitball, Snatch!, Get Physical and 100% Pure, bringing high energy to every show, and their performance this August will be no exception. And also joining Prydz in the Theatre will be the young Canadian Weska, and Finnish Anjunabeats star Yotto, playing two shows each. 
CLUB (ROOM 2) – ANDREA OLIVA & FRIENDS
Andrea Oliva & Friends will take over the Club (Room 2) on Tuesday nights. Naturally he has invited plenty of incredible friends to the Club, including Circoloco regular Davide Squillace, Argentinian live act Guti, enigmatic melodic duo Haiku 575, Diynamic regular and Ibiza mainstay H.O.S.H. and fast-rising Cocoon resident Ilario Alicante. BBC Radio 1's Pete Tong also stars, along with Italy's legendary DJ Ralf, and party-starter extraordinaire wAFF.
With its perfectly curated lineup, bespoke production and Hï's advanced sound and technologies, this looks to be one of the most exciting parties of the summer. Book your place now at www.hiibiza.com.
ERIC PRYDZ AT HÏ IBIZA – FULL SEASON SCHEDULE
Every Tuesday from 20th June – 22nd August (10 weeks)
Tickets available at www.hiibiza.com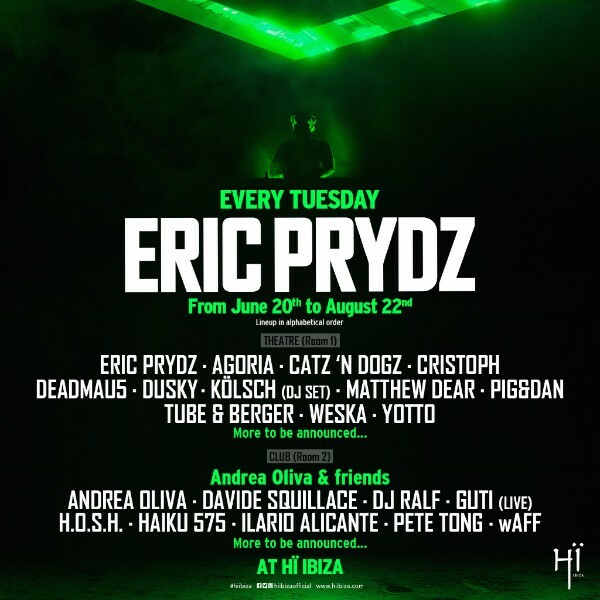 20 JUNE – OPENING
THEATRE: ERIC PRYDZ, CRISTOPH
CLUB: ANDREA OLIVA, GUTIAGORIA,
27 JUNE
THEATRE: ERIC PRYDZ, CATZ 'N' DOGZ, WESKA
CLUB: ANDREA OLIVA, MORE TBA 
4 JULY
THEATRE: ERIC PRYDZ, PIG & DAN, CRISTOPH
CLUB: ANDREA OLIVA, ILARIO ALICANTE
11 JULY
THEATRE: ERIC PRYDZ, KOLSCH, YOTTO
CLUB: ANDREA OLIVA, MORE TBA 
18 JULY
THEATRE: ERIC PRYDZ, DEADMAU5, CRISTOPH
CLUB: ANDREA OLIVA, DAVIDE SQUILLACE, HAIKU 575
25 JULY
THEATRE: ERIC PRYDZ, DUSKY, WESKA
CLUB: ANDREA OLIVA, PETE TONG
1 AUG
THEATRE: ERIC PRYDZ, SPECIAL GUEST TBC, CRISTOPH
CLUB: ANDREA OLIVA, wAFF
8 AUG
THEATRE: ERIC PRYDZ, MATTHEW DEAR, YOTTO
CLUB: ANDREA OLIVA, DJ RALF 
15 AUG
THEATRE: ERIC PRYDZ, TUBE & BERGER, WESKA
CLUB: ANDREA OLIVA, H.O.S.H.
22 AUG – CLOSING
THEATRE: ERIC PRYDZ, DEADMAU5, CRISTOPH
CLUB: ANDREA OLIVA, MORE TBA