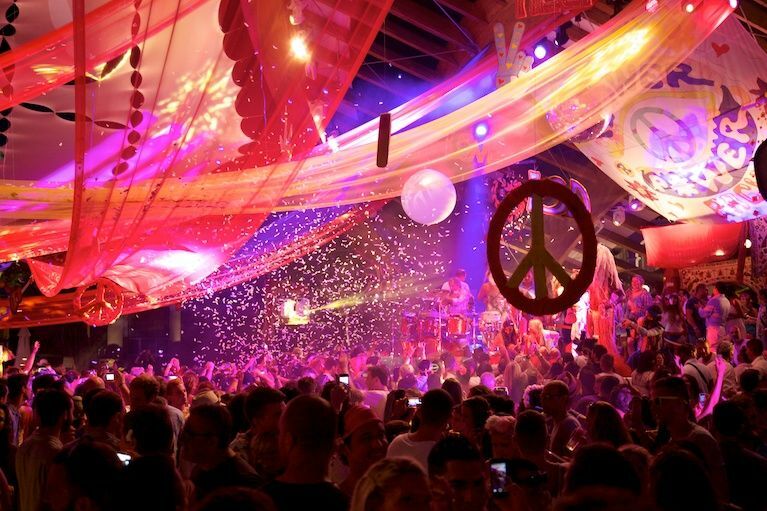 MARCH 05TH, 2018
The new Flower Power is here
The most authentic night in Ibiza brings to Pacha the best hits and aesthetics of the nineties
Featuring a renovated decor, more interactive performances and various special sets by top international DJs.
This year Flower Power comes packed with surprises. The most colorful party on the island – an intergenerational meeting point and an emblem to many dancefloor enthusiasts from the past decades – is going a step further while maintaining the hippie essence: fun and joy. A party marked by freedom, love and peace.

Monday's favorite party in Ibiza is keeping its essence but moving forward: The New Flower Power will bring the best tunes, aesthetics and imaginary from the sixties, seventies, eighties, and now from the nineties!
The concept is endorsed by a renovated and unique décor, all handmade and new plus new and extra interactive performances that will enhance the sparkle of this quintessential night.
In addition, this new Flower Power will feature some sort of cameo appearances by international Top DJs delivering their own Flower Power music Sessions.
The first new flower Power will start on May 28th and will run through October 2nd. Mondays at Pacha will make this summer short!
EL NUEVO FLOWER POWER YA ESTÁ AQUÍ
La fiesta con mas historia de Pacha alarga su mirada hasta los noventa para presentar los mayores éxitos de esa década
Una renovada imagen estética, más acciones performativas y más  y la realización denoches especiales con DJ TOP internacionales son otros de los puntos a destacar
Este año Flower Power viene cargada de sorpresas. La fiesta más colorista de la isla, punto de encuentro intergeneracional y emblema de llenapistas de las décadas pasadas, ha decidido dar un salto y cambiar manteniendo la esencia hippie: diversión, alegría, para todos los públicos. Una fiesta marcada por la libertad, el amor y la paz.
La fiesta de los lunes en Ibiza continúa con su esencia, pero adaptada a los tiempos de hoy: New Flower Power.
Ibiza no para de cambiar. En esta ocasión no va a ser menos. En Flower Power podremos escuchar temas de los sesenta, setenta y ochenta, y en esta nueva etapa, también de los noventa. La década noventera, y toda su estética e imaginario, será una de las protagonistas del verano en Flower Power Pacha.
A esto hay que incorporar una nueva decoración única, hecha a mano, que se renueva para darle una imagen mucho más brillante. No faltarán las famosas acciones —ahora más interactivas— y novedosas propuestas de performance. Saca tu lado vintage, ponte un pantalón de campana y esta es tu fiesta.
Y además, el nuevo Flower Power tendrá sesiones especiales con los DJ internacionales más Top del momento adaptándose y preparando una sesión única "Flower".
¡Entre el 28 de mayo y el 2 de octubre tendremos ocasión de descubrirlo y vivirlo de primera mano!