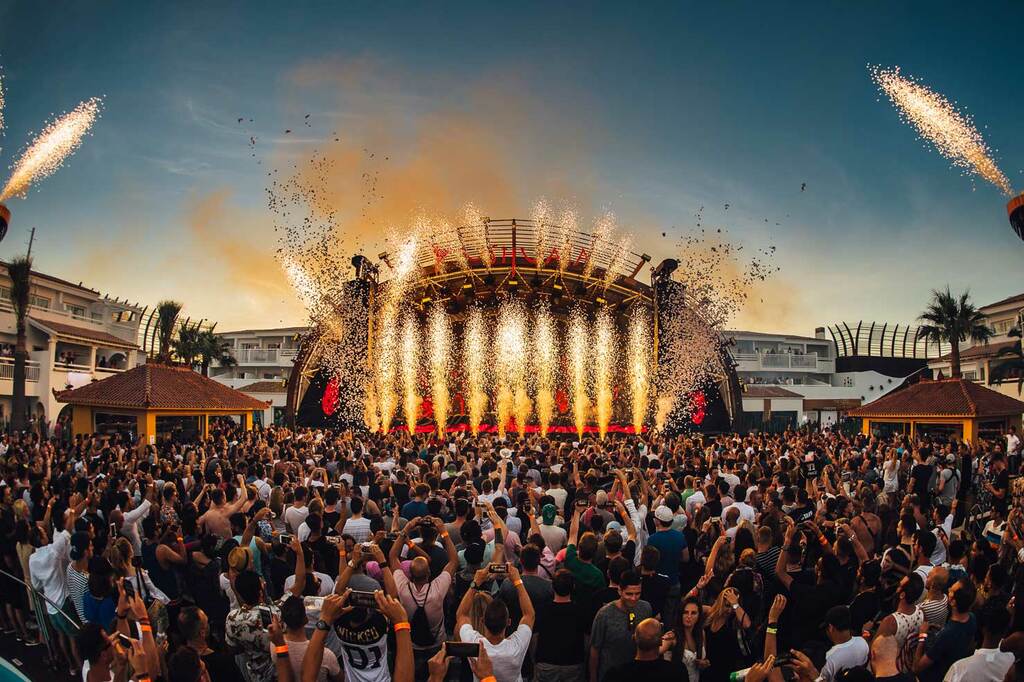 MAY 02ND, 2018
The Night League and Ushuaïa Ibiza reveal "Dystopia" line up.
The Night League and Ushuaïa Ibiza reveal "Dystopia" line up, a festival experience dedicated to music and art.
Ushuïa Ibiza Beach Hotel / Playa d'en Bossa
Every Friday from 1st June – 28th September tickets on sale now
Taking place every Friday from June 1st to September 28th and created by the nightlife visionaries The Night League, "DYSTOPIA" is a brand-new festival concept set to provide an interactive experience with an artist roster perfectly supplementing the visual curiosities fulfilled by the transformable venue.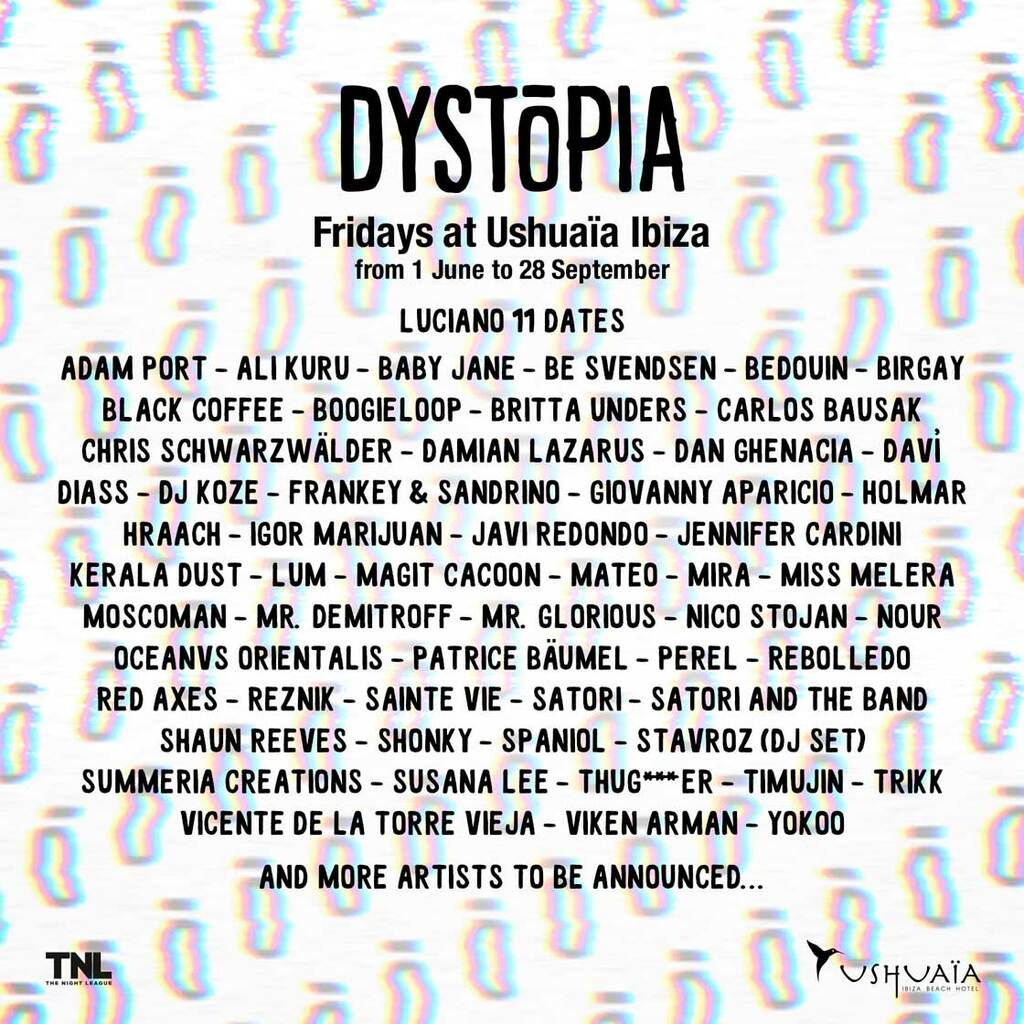 Ushuaïa Ibiza will come to life with creativity and diversity in music and surrounding. Electronic music pioneer, Luciano, is locked in to perform eleven shows over the summer, invigorating the crowd and inviting you into the ultimate all-encompassing experience.
" Ushuaïa is part of my carreer so its feel always home there. I feel great to be invited and part of this new adventure all together, to enjoy the music and celebrate again life, creating a special atmosphere of love, joy and dancing under the stars " – Luciano
With the new stage setup as key element within a special immersive production, a collection of leading electronic artists including Black Coffee, Damian Lazarus, Dj Koze (Pampa Records), Adam Port (Keinemusik), Bedouin, Jennifer Cardini (Correspondant) , are set to front the new-world crowd. Complimenting the distorting experience are Trikk, Ali Kuru, Baby Jane and, along with Be Svendsen, Birgay, Boogieloop, Britta Unders, Carlos Bausak, Chris Schwärzwalder, Holmar, Hraach, Igor Marijuan, Javi Redondo, Kerala Dust, Lum, Patrice Bäumel, Perel, Rebolledo, Reznik, and Frankey & Sandrino . Sainte Vie, Satori, Satori and the band, Shaun Reeves, Shonky, Spaniol, Stavroz (DJ set), Summeria Creations, Susana Lee, Thug****er, Timujin, Vicente de la Torre Vieja, Viken
Arman, Giovanny Aparicio, Miss Melera, Magit Cacoon, Mateo, Mira, Moscoman, Mr. Demitroff, Mr. Glorious, Nico Stojan, Nour and Oceanvs Orientalis will navigate through the festival this summer along with Dan Ghenacia, Daví, Diass, YokoO and Red Axes to ensure the first season of DYSTOPIA becomes unmissable.
DYSTOPIA LINEUP ANNOUNCEMENT
DYSTOPIA, is a hub of creativity that strikes a contrast of the modern world. Music, live art and performances as if viewed through a distorted lens; radically immerse yourself into an unconventional experience for Ibiza.
People will navigate through new common areas; chill-out spaces, a playground for adults, healing zones, a pop-up market, food trucks and more.
'Wrong place, wrong time, be there.'
The jewel in Ibiza's party crown, Ushuaïa's dedication to bringing the most-sought after names to their world-famous stage ensures they remain one step ahead of the game every time. Based on the experiences gathered over the years, Ushuaïa Ibiza is dedicated to providing the best outdoor entertainment possible. The legendary poolside parties have been drawing in the crowds ever since the very beginning. The team behind the #1 Open Air Club raises the bar ever higher, with an impeccable lineup of superstar residents from across the electronic music spectrum playing from daytime to midnight. Not just content with packing their nights full of world class artists, Ushuaïa Ibiza constantly outdoes itself when it comes to phenomenal productions, with a different theme each night of the week. With incredible pyrotechnics, mind-blowing lighting, visuals and a state of the art soundsystem, not to mention the beautifully designed gogo costumes, as well as an abundance of confetti, streamers and CO2, it's no surprise people flock from around the world for the inimitable Ushuaïa experience.
SOCIALS: Web / Facebook / Twitter / Instagram / YouTube
TICKETS: ushuaiaibiza.com/MvzLtS
ROOMS: www.ushuaiabeachhotel.com