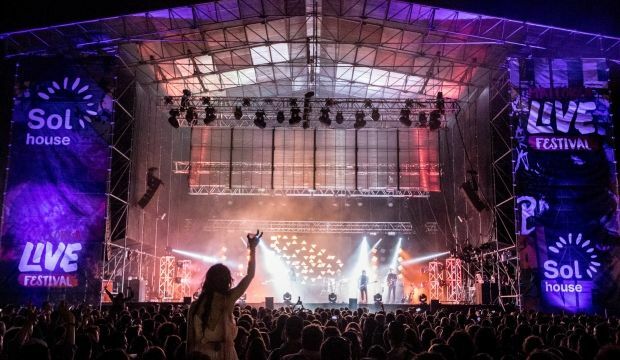 APRIL 05TH, 2018
Six acts you can't miss at Mallorca Live Festival!
The 11th & 12tn of May it is all about Mallorca.
Mallorca Live Festival is running for the third year and has again collected an impressive lineup. As a relatively new festival, it has already become an important part of the development of the music scene at Mallorca.
Mallorca Live Festival is beautifully located in an old aquapark in Calviá, close to stunning nature and the beach.
Genres within indie rock, rap and electronic music such as house and techno, will sound at the festival.
With more than 16 hours of great live music, it can be hard to choose which one of the three stages to be at, and at which time.
So we are giving our recommendations of six acts that we definitely will not miss during that weekend.
Friday the 11th of May
The first day of the festival has some solid acts on the program. Some of the artists are:
Henrik Schwarz
German Henrik Schwarz is operating in styles that can be categorized within electronic, classical and jazz. He likes to be innovative and develop his projects.
Henrik Schwarz owns the record label Sunday Music.
Primal Scream
Another exciting act that will take place on Friday is the Scottish group, Primal Scream. They were formed in 1982 and since then, they have been on quite a journey.
From indie rock to acid house and changing group members, but the passion has never been lacking.

Saturday the 12th of May
The next day, the lineup has even more to offer. With three stages and a lot of exciting acts, you will not be bored!

Nina Kraviz
Nina Kraviz is one of the big names of the lineup for Saturday. She has always been determent in her career and she learned by experience that no one should control her musical destiny, which for example is shown with that she doesn't have a manager.
Nina has an incredible ability to catch the entire audience with her expressive style of DJ'ing, as she loves adrenalin and taking risks.
Kase O
Kase O is one of the most important and talented rappers in Spain.
He has succeeded in blending other genres, like for example jazz and funk into his own personal style. Last year released "El Circulo"
Vitalic
Vitalic is known for redefining the term of techno, creating an easy, continuously developing, recognizable style.
He is blurring boundaries between genres, be prepared to a spectacular act from French Vitalic.

The Prodigy
As some of the pioneers in the industry, The Prodigy is one of the headliners of Mallorca Live Festival.
By having years of experience, you can be sure that they won't adapt to anything, playing as provocative and non-commercial as they always have done.

Besides these top acts, the lineup isn't complete yet. A local DJ contest is currently running and will result in an act from the winner of 'Mallorca Live Talent', which will be a Balearic resident.
More info and see the full lineup here
Check the after movie from 2017 here: