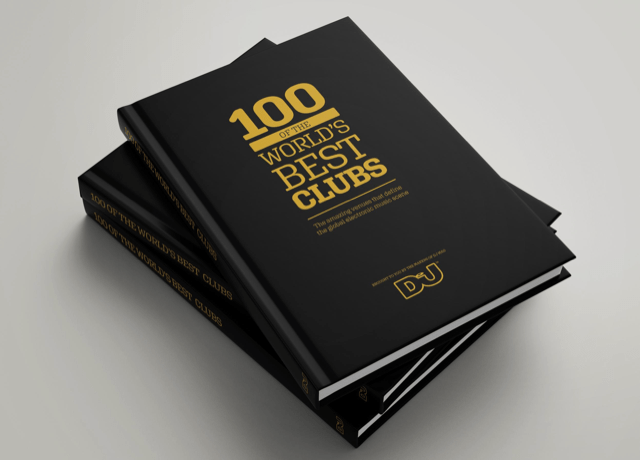 DECEMBER 17TH, 2020
100 OF THE WORLD'S BEST CLUBS' by DJ MAG
100 Of The World's Best Clubs is a new book, from the makers of leading electronic magazine DJ Mag, that celebrates the amazing venues that define the global electronic music scene. Limited to 1,000 copies, the 184-page hardback book ships boxed as the ultimate raver's coffee table accessory. It is available now priced at £50 from djmagshop.com
From its nascent underground beginnings, clubbing and DJ culture has grown into a worldwide and multifaceted scene, and this is reflected in the wide-ranging venues featured in this book. With nightclubbing very much a global industry now, you can find superb venues in Brazil, Croatia, Ibiza, Scotland, South Korea, Germany, the United States and beyond.
From purpose-built pleasure palaces with huge production values, glitter cannons, CO2, lasers, LED walls and holograms; to dark rooms with a DJ, sound rig and not much else, all of clubland is represented: open-air beach venues, festival-sized mega raves, brand new ventures and beloved institutions.
The various dancefloors featured in the book encompass all that dance music means to clubbers – from techno-purists to EDM day-trippers, and all shades in between – and provides a physical reminder of the spaces we hope to return to as soon as it is safe to do so.
These are the venues around the world have truly defined our scene. All these clubs contain the potential — with the help of the right DJ and crowd — to facilitate magic, and unforgettable moments; moments that live with clubbers long after they've left the dancefloor. These nightclubs are sites of joy, hedonism, freedom and expression, where club culture is at its very best.
For more information see:
Some of these venues are defined by their physicality or architectural features. Others get their identity from their location or their history, their owner's vision, or perhaps some combination of these factors. But all these clubs have one single thing in common — they attract countless dancers and pleasure-seekers; dedicated dancefloor warriors who create the atmosphere and energy that make our scene unique.
DJ Mag is supporting Unicef's £503m fund to combat coronavirus in every continent on the planet. As part of this support 10% of all profits from the sale of 100 of the World's Best Clubs book will be donated to Unicef.