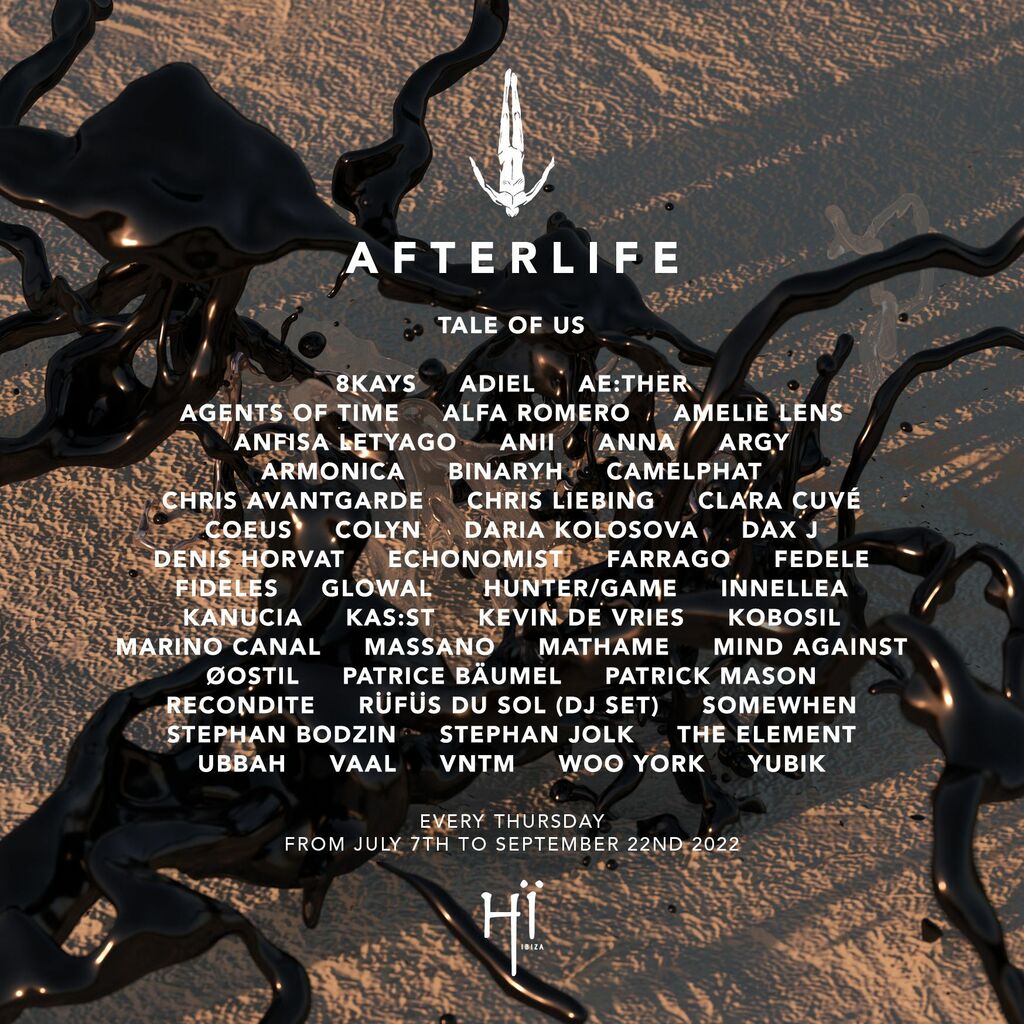 MAY 20TH, 2022
Afterlife at Hï Ibiza: full line-up revealed
Tale Of Us have revealed the full musical roster for their 2022 Afterlife residency at Hï Ibiza, featuring a well-curated mix of names that shows off the impressive development of concept.
Taking over Thursday nights from the 7th of July to the 22nd of September, the residency features some of the hottest names on the global circuit, including RÜFÜS DU SOL (DJ set), Stephan Bodzin, Amelie Lens, and CAMELPHAT, as well as returning favourites Mind Against, Colyn, Fideles, Kevin de Vries, and live performances from Recondite and Woo York.
Shaping up to be Afterlife's strongest season yet, 

the focus of this year's 12-week run is three-fold: bringing together a diverse mix of like-minded selectors and producers, introducing up-and-coming Afterlife talent, and bridging the gap between boundary-pushing music and innovative digital art.
As usual, Tale Of Us will be closing the Theatre space week-in, week-out – and after a two year hiatus, expect the Afterlife movement to return bigger and bolder than ever before.
The vast and futuristic main room ("Theatre")  will see appearances from renowned, genre-pushing talent including Innellea, Mathame and Patrice Bäumel.
Meanwhile, the more intimate second room ("Club") will dive deep into the realms of dark underground techno, with sets from Kobosil, ANNA, Chris Liebing, Daria Kolosova, Patrick Mason, Clara Cuvé, Massano and Dax J to name a few.
Building on a reputation for paying special attention to how thoughtfully designed spaces can influence the clubbing experience, this year Tale Of Us are blurring the lines between realities even further with fully-immersive visual installations and tailor-made lighting – surrounding, of course, the iconic Afterlife insignia levitating above the dancefloor.
See the full line-up below (A-Z):
8KAYS
ADIEL
AE:THER
AGENTS OF TIME
ALFA ROMERO
AMELIE LENS
ANFISA LETYAGO
ANII
ANNA
ARGY
ARMONICA
BINARYH
CAMELPHAT
CHRIS AVANTGARDE
CHRIS LIEBING
CLARA CUVÉ
COEUS
COLYN
DARIA KOLOSOVA
DAX J
DENIS HORVAT
ECHONOMIST
FARRAGO
FEDELE
FIDELES
FJAAK
GLOWAL
HUNTER/GAME
INNELLEA
KANUCIA
KAS:ST
KEVIN DE VRIES
KOBOSIL
MARINO CANAL
MASSANO
MATHAME
MIND AGAINST
ØOSTIL
PATRICE BÄUMEL
PATRICK MASON
RECONDITE
RÜFÜS DU SOL
SOMEWHEN
STEPHAN BODZIN
STEPHAN JOLK
THE ELEMENT
UBBAH
VAAL
VNTM
WOO YORK
YUBIK
Get your tickets at hiibiza.com.