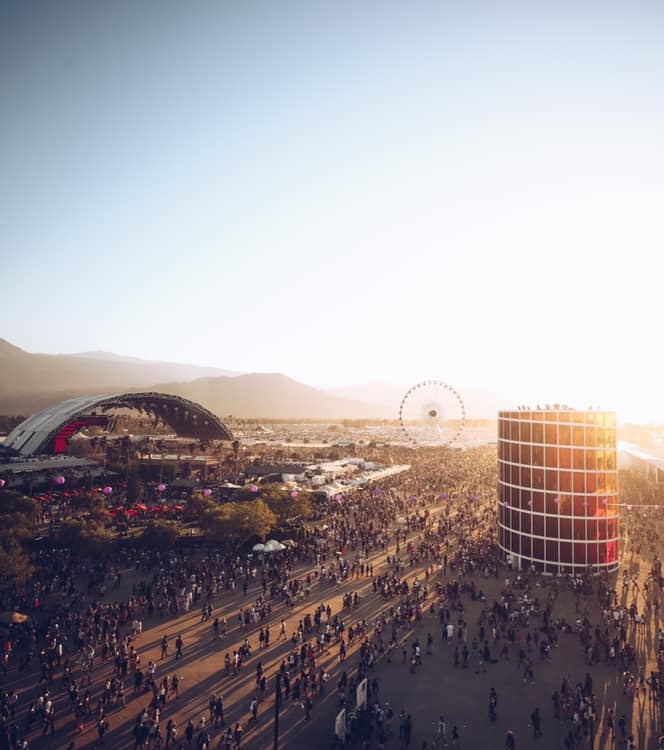 AUGUST 20TH, 2021
Coachella and other AEG venues to require full vaccination proof from autumn
Feature image courtesy of Coachella.
Coachella, as well as other festival and music venues governed by AEG Presents, will require proof of a full, double-jab Covid-19 vaccination from revellers wanting to enter as of October 1st 2021.
The new rule was announced amidst the spread of the virus' Delta variant in the US, but may extend to the UK and Europe, where AEG looks after The O2 Arena and other festivals and events. It will also apply to staff members working at the events and venues.
Said AEG's CEO, Jay Marciano, "We have come to the conclusion that, as a market leader, it was up to us to take a real stand on vaccination status.
"Just a few weeks ago, we were optimistic about where our business, and country, were heading. The Delta variant, combined with vaccine hesitancy, is pushing us in the wrong direction again."
The second jab required to complete the vaccination process must have been taken no later than 72 hours before an event for revellers and staff to be granted permission to enter.
Coachella will be just one of many AEG events adhering to the new regulation, with a further 48 clubs and theatres across the US taking on the new rule, as well as other festivals including Firefly and Day N Vegas.
Marciano continued, "We realise that some people might look at this as a dramatic step, but it's the right one.
"We also are aware that there might be some initial pushback, but I'm confident and hopeful that, at the end of the day, we will be on the right side of history and doing what's best for artists, fans, and live events workers."
Taking into account the time it takes to complete the vaccination process, especially for younger generations who have not been offered the jab yet, a six-week transition period was brought into play – leading up to October 1st 2021, when the regulation will come into effect.
Marciano finished, "I think everyone can agree that we don't want concerts to go away again, and this is the best way to keep that from happening."
For more information head to www.aegpresents.com/health-policy.