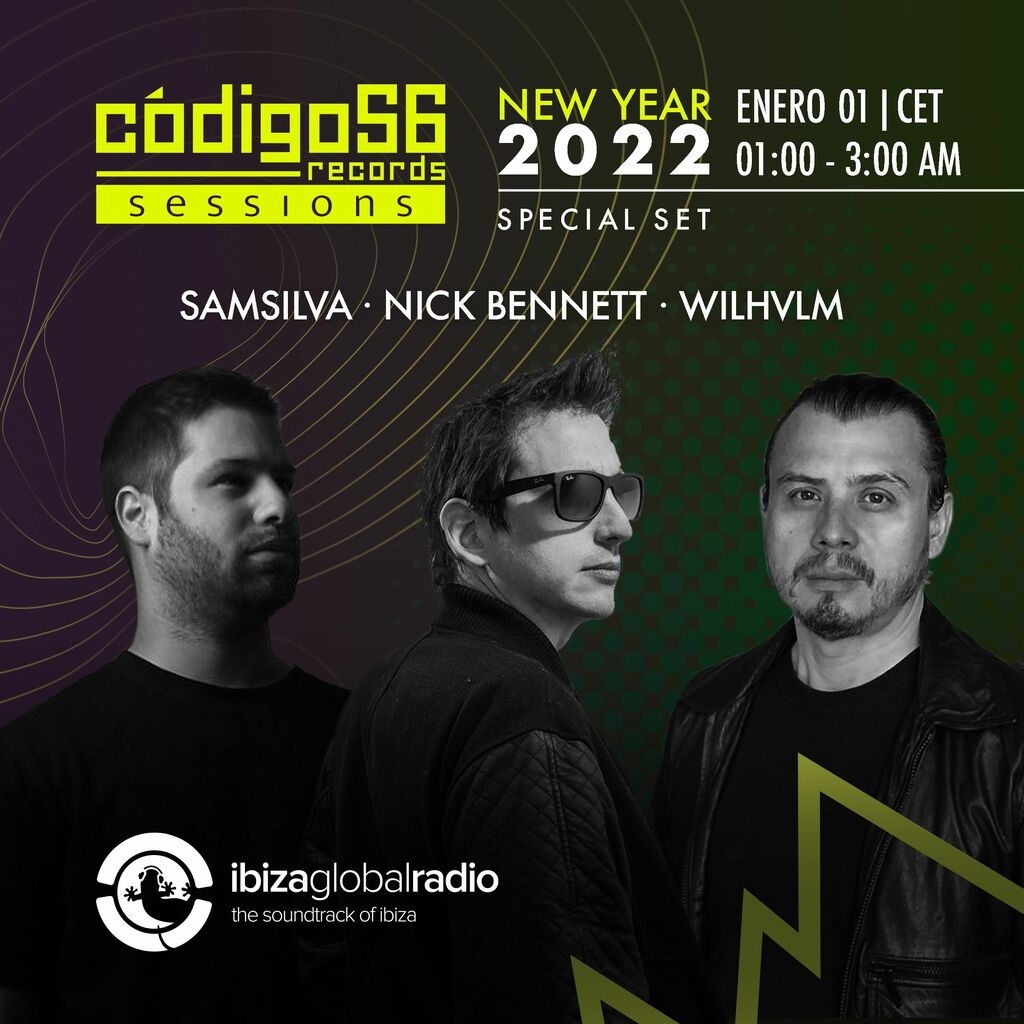 DECEMBER 28TH, 2021
Código56 Sessions to be part of the Ibiza Global Radio NYE 2022 line-up
'Código56 Records Sessions' to play at 1am through to 3am CET on January 01, hosted by SamSilva, Nick Bennett and WILHVLM.
The team of Código56 Records, Nick Bennett, SamSilva and WILHVLM, will be part of the Global Ibiza Radio line-up, featuring a select line-up for the New Year's Eve for 2022.  The line up starts on Friday 31st of December at 19.00 CET featuring Global Ibiza Radio guests until Saturday 1st of January 2022 at 8am CET.
The Código56 Records team have been working for 3 years together, producing tracks, parties and in mid Covid Lockdown in 2020 launched the label, focusing on Deep Tech House.
WILHVLM, based in Amsterdam, says "Looking forward to kicking off the year with some bad ass tunes that with my co-producers; Nick and Sam that we have released this year as well as unreleased gems for 2022. The team has done an amazing job in curating a great set of Artists that shall also feature in the two hour set."
Nick Bennett, having recently relocated to Sevilla comments; "Playing at Ibiza Global Radio has allowed us to develop a unique sound based on our audience's feedback that has helped me and the team to evolve our sound with a great combination of deep and tech house influences.  We are so excited to be part of an amazing line-up."
SamSilva, residing in Santiago; "Running a Record Label, Touring and Producing tracks is demanding, and having the opportunity to share the sound that we have hand crafted in combination with the artists that we have selected for the label to be shared with Ibiza Global Radio, is quite rewarding."
For the ADE 2020 (Amsterdam Dance Event) the team moved to the Netherlands and hosted a Rooftop party with an eclectic group of DJ's including; Menja Mist, Zoë Xenia, Meta-Tronic, Kento, BOHO,  and Natalino Nunes, among many others. 

The team is now spread out between living in Amsterdam, The Netherlands; Sevilla, Spain and Santiago, Chile, making themselves available for bookings for events.
For more information on Codigo56 Records you can click on the following links:
Ibiza Global Radio 2022 New Years Eve Line-Up.
Friday 31, December, 2021
19.00 Lotus Imane and SanRa, hosted by: Cavalli Booking
20.00 Maricha and Youlia, hosted by: Cavalli Booking
21.00 Medusa Odyssey and Sanchez, hosted by: Cavalli Booking
22.00 RICH NxT
23.00 CRISTINA LAZIC

Saturday 1, January, 2022
00.00 DENALI
01.00 Código 56 Sessions: SamSilva, Nick Bennett and WILHVLM
03.00 KREED
04.00 ALEX LOCO
05.00 CELESTRA
06.00 JOSE MARIA RAMON
07.00 MARCO FLORIO