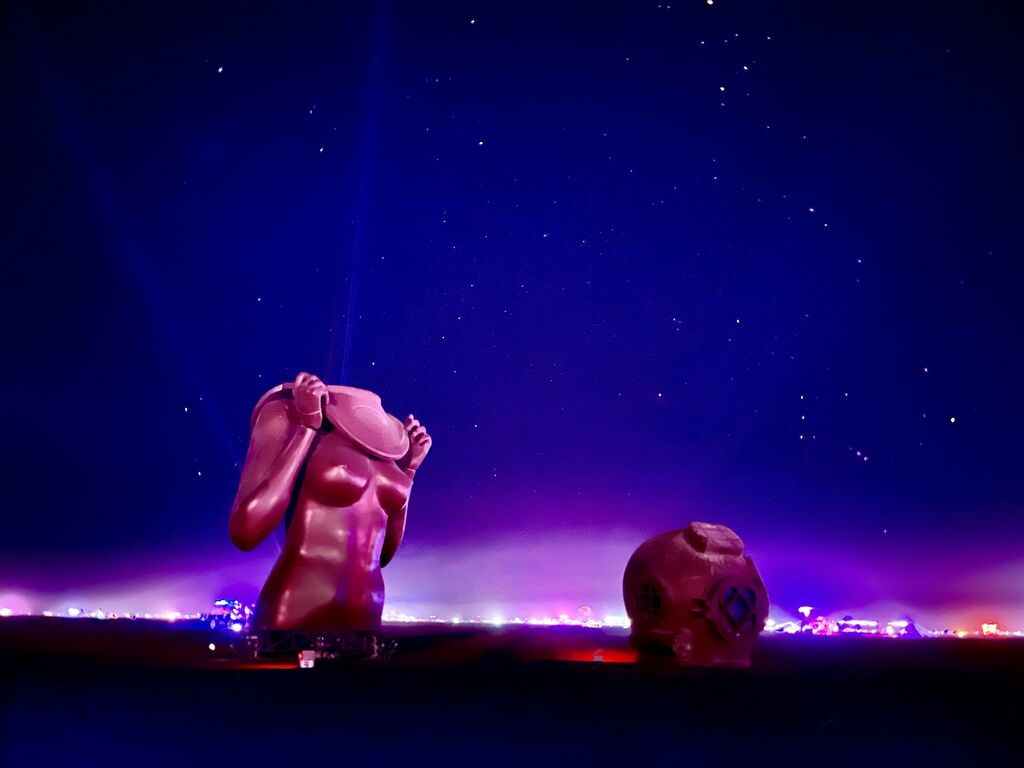 OCTOBER 08TH, 2022
"Diver UP" sculpture conceived in Ibiza pops up at Burning Man 2022
An 8-metre sculpture based on American artist Victor Spinelli's iconic "Diver UP" photograph was one of the eye-catching installations to appear at the 2022 edition of Burning Man, Nevada, US, last month.
Reaching up into the bright blue sky over the famous Black Rock dessert, the imposing statue was modelled after a picture that Ibiza resident Spinelli took on Cala Xarraca beach in 2005.
A metaphor for the oppression forced upon Mother Earth by industrialism and capitalism, it depicts a naked woman trying to lift a heavy iron diving helmet off her shoulders.
The symbolism of the photograph highlights the contrast between man-made and natural, the Goddess trying to free herself of the controlling form that has been imposed upon her – a metaphor for society, history and mankind.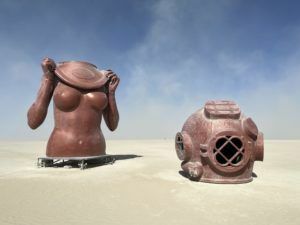 Spinelli says, "This was my 10th Burning Man and my most difficult, with challenges every day in building this sculpture. It is very fulfilling to spread the love of the feminine Goddess on such a grand stage and my heart is full of gratitude for my team, which helped me to achieve my goal of seeing her rise from the desert floor."
Alas, this was not the first time an incarnation of "Diver UP" has appeared at 'the Burn'. In 2019, Spinelli brought a smaller 2-metre wooden statue of the Goddess to the cultural gathering, which was burned at the event.
It will also not be the last interpretation of the original piece, as the US-born artist is planning to create an underwater installation of "Diver UP" in the future that will be submerged between Ibiza and Formentera.
Made from PH-free cement, he plans to plant corals on the structure and place it in a spot where it can become an attraction for divers.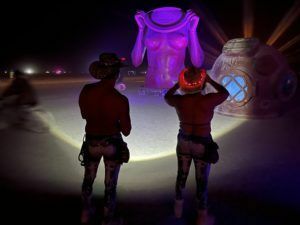 In talks with local environmental organisations including the Ibiza Preservation Fund and Oceanic Global, Spinelli is set to begin a fundraising campaign for his new project soon.
Meanwhile, the giant 8-metre sculpture that wowed Black Rock City dwellers will be making its way to Area 15 in Las Vegas, an immersive entertainment venue hosting art shows.
On Ibiza, two smaller versions of "Diver UP" are currently installed at the Paradiso Ibiza Art Hotel and the Red Gallery in Ibiza's private airport.
Art lovers who would love to acquire a version of the cult piece for themselves should check out the limited edition prints, handmade-to-order 12in (30cm) statues and precious metal pendants available on Spinelli's website.
To find out more about Victor Spinelli and his art visit www.victorspinelli.com and www.diverUP.com.