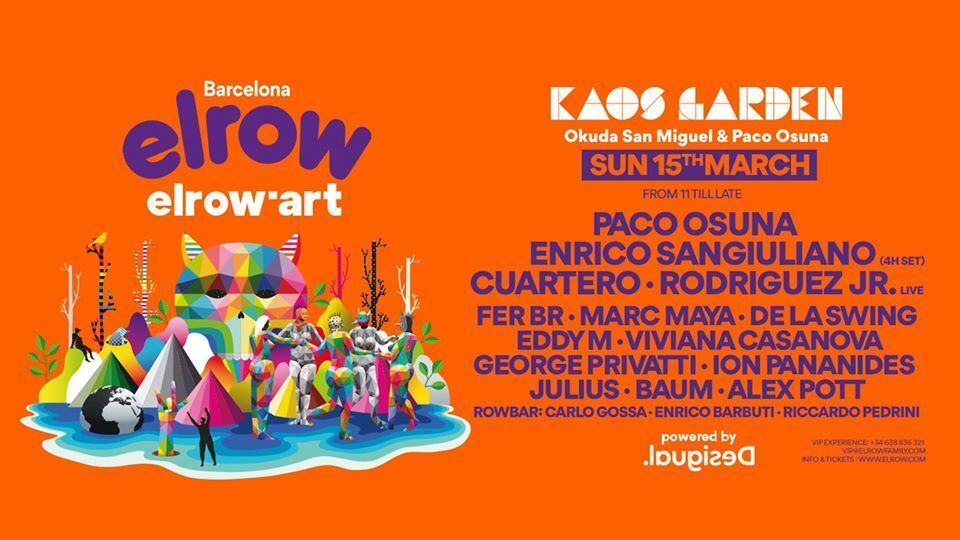 FEBRUARY 28TH, 2020
elrow'art announces its only edition in Barcelona
After visiting Ibiza, Miami, New York and Madrid, elrow'art brings avant-garde art to the city of Barcelona
Elrow'art's first collaboration in Barcelona will be taking place on March 15th, during a 12 hour non-stop party, presented by the famous Spanish painter, sculptor and designer Okuda San Miguel, the DJ and producer Paco Osuna and Desigual as the main collaborator.
The theme of the show is named "Kaos Garden", inspired by Bosch's masterpiece, The Garden of Earthly Delights. Okuda's recreation is full of multicolored personality, a journey through hell until reaching paradise.
A unique opportunity for people to celebrate their passion for music and art, but also for fashion, performance, dance, creativity and unlimited fun.

Kaos Garden opens at 11am with bomb artists such as Enrico Sangiuliano, Cuartero, Rodriguez JR. and FER BR alongside the residents, Marc Maya, De la Swing, Eddy M, Viviana Casanova, George Privatti, Ion Pananides, Julius, Baum and Alex Pott. The party ends at 11pm with the sound of Paco Osuna.