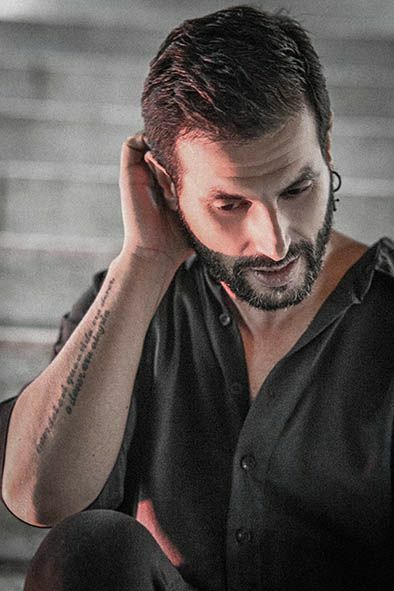 OCTOBER 26TH, 2022
WE ARE DEEP by DIRTY FLAV
Dirty Flav, is a former member of the duo THE VINTAGE formed by Flavio and Bruno who have had their music charted on all four corners of the globe direct from their studio in the south of Lausanne.
It took little more then a year for these two artists to break their silence and hit the major music scene thanks primarily to the assistance of LA producer, Eddie Amador with his new label MOCHICOPRIMO! Eddie signed and remixed The Vintage's track "To Believe" which made a large impact and stayed in the top 10 best sellers chart at the world's 1 online retailer, Beatport for many weeks. Like all good historical beginnings, a great friendship was formed between The Vintage and Eddie Amador, with the duo doing several other remix and originals for Eddie's label. During this time The Vintage also released "Wake Up America" on Sondos, a sub label for Subliminal Records run by dj star Erick Morillo which was distributed globally and took only 3 weeks to sell out.
They aligned releases in the French label Mañana Records, for George Morel's US label Groove On Records, Joe T Vanelli Italian label DreamBeat records , spanish label Tusom, swiss label Helvetica Noir, bresilien label Eletrodomesticos records, Portuguese label Magna records, and Australian label, Bellarine Records. Their pieces have been played and supported by the majority of the big dj's house like, Erick Morillo, Eddie Amador, Roger Sanchez, David Morales, Pete Tong, George Morel, Danny Rampling, Dubfire,Richie Hawtin etc. We could listen to them in some "high quality" radio broadcasts like the BBC1 radio show of Pete Tong, the Release Yourself of Roger Sanchez & many cd compilation's sessions.
On the live side They played as the headline act in the most important clubs in their country of origin, Portugal and have been several times in the past, in the most important Medias like the magazine danceclub, the radio show antena 3 and several other interviews in Dance TV ( sic radical )
In their country of residence, Switzerland, they have played in some big festivals like the Sundance, Polaris, Montreux jazz, Afterseason, 1er aout in the city,love boat, Paleo,Fete de la Musique, Electroziles, Aftersun, Lake Parade, Rock oz'arenes, Chocolate, Label Suisse…
They played in the main cities like Lausanne, Zurich or Geneva and established residence at the D! Club (2003>2007)(2012 > 2021)& Mad Club (best swiss club's) for the Mad'Attitude (best swiss parties)(2007>2009) + Silencio Club Geneva (2012>2018)
Since 2009, Flavio has returned solo to his first love the deep&techouse with the new name DIRTY FLAV, notably bringing out productions for Mature music or DeepStitched records.
He is now again resident at the D! club ( best swiss club 2014+2015) and play in the different city's like : Ibiza, Berlin, Paris, London, Miami, Punta Cana, Lisbon, Sardania, Bulgaria, Porto, Roma, Brussels, Gent, Madrid etc……
His presence is well known in Switzerland , Ibiza and Portugal, you can hear him at the 'famous'  WE ARE DEEP monthly party in Lausanne at the ABC bar Club, + the new residency at one of the best Ibiza radio's PURE IBIZA RADIO
22 years of dj'ing tour …. 1999 > 2021