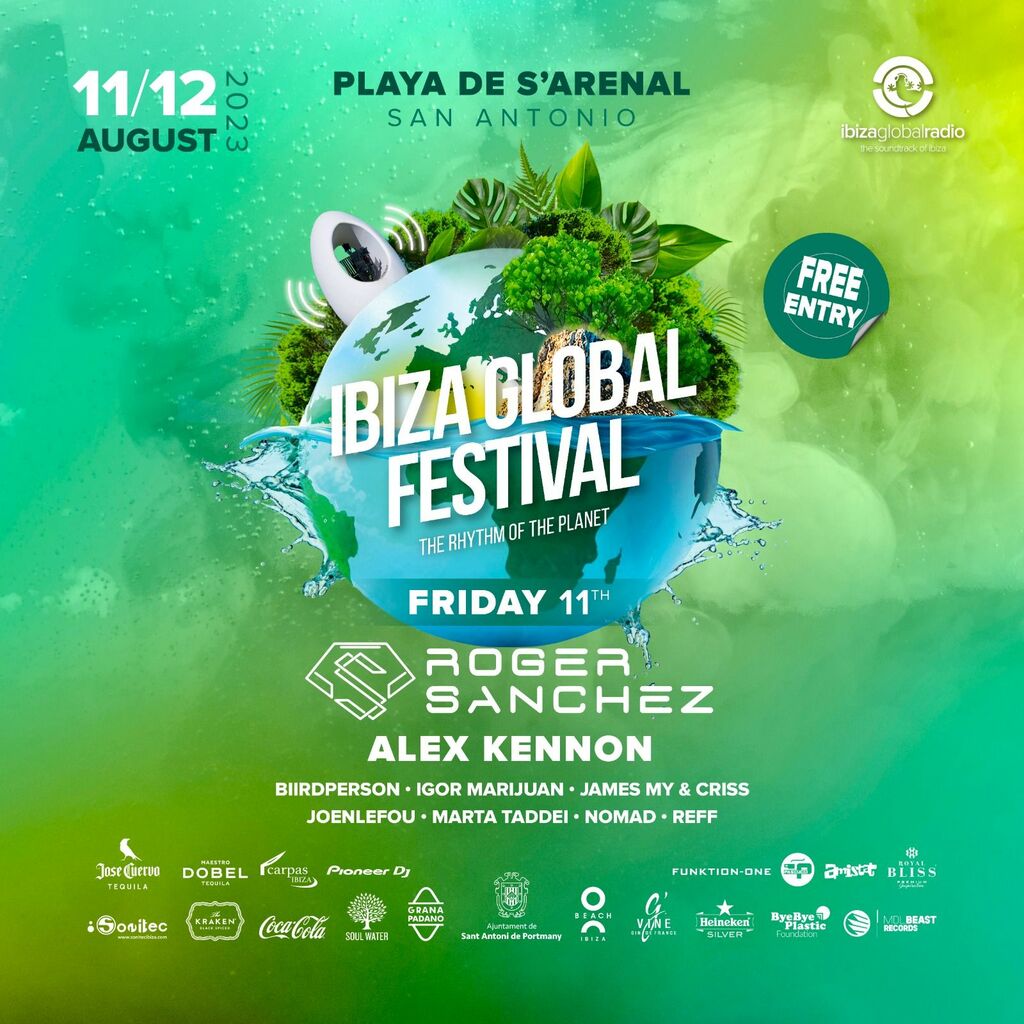 JULY 29TH, 2023
Ibiza Global Festival 2023: Roger Sanchez tops Day 1 line-up
With the hotly anticipated second edition of Ibiza Global Festival just a few weeks away, the team behind the electronic music gathering has revealed the line-up for Day 1 of the two-day event. 
Internationally renowned DJ Roger Sanchez will be heading up the roster of global turntable talent on Friday, August 11th 2023 of the admission-free beach party.
Each day, festival goers will be treated to a packed programme of international and island favourite DJs from 5pm until 1am.
Featuring an exciting mix of artists from all over the world that spans a variety of genres, a dance marathon awaits on the shores of San Antonio's S'Arenal beach.

See the full line-up for Day 1: Friday, August 11th below:

JoenLeFou

No stranger to the Ibiza Global Radio airwaves, Italian DJ and producer JoenLeFou has been a musician since his childhood days. He is a member of the A-DJ Board of Directors of the National DJ and Producer Association, and has worked on the creation of various compilations in the melodic techno genre, his sound characterised by ethnic elements.
James My & Criss
Giammarco Mineo and Cristian Valentini, a.k.a. James My & Criss, are a duo of Roman DJs and producers who combined their names in 2014 to create a new musical and artistic project.
Flying high in the underground scene with a Minimal Deep Tech sound, and participating in the most famous parties and festivals, their music is supported by numerous top
DJs such as Waff, George Privatti and many more! In 2022 they opened the first edition of the Ibiza Global Festival with a sizzling set.
Marta Taddei
Returning for the second edition of Ibiza Global Festival after an energetic show at the event's launch in 2022, Marta is an Italian powerhouse on the underground scene. Her sound is a synthetic combination of Minimal and House that creates a strong connection to the dancefloor.
She has shared stages with the likes of Paul Kalkbrenner, Luciano and Nic Fanciulli, and released music on several labels. DJs of the calibre of Marco Carola, Butch, Francisco Allendes, Serge Devant and many others play her tracks all over the world.
BIIRDPERSON
With her artist name inspired by a "Rick & Morty" character, Biirdperson is a filmmaker and self-taught DJ who learned by observing local Saudi Arabian artists such as Vinyl Mode, Hats and Klaps, Majid, Cosmicat and Baloo. From the international scene, she names Mihai Pol, David August and Kiasmos as inspirations.
Her sets are driven by grooves and emotions, taking the audience on a sonic journey that inspires them to find their inner rhythm.
NOMAD

Inspired by rhythms, percussion work and captivating atmospheres, Nomad is a traveller for music. A seeker of all things sound and expression, music from Nomad is a journey filled with deep and progressive storytelling.
REFF

Part of the Ibiza Global Radio roster, DJ Reff has more than 25 years of experience after beginning his career as a DJ with only 16 years using his father's records.  His energetic sound ranges from Acid House to R&B, Hip-Hop, Funk, Dance, House, Tech House, Groove, and above all a technique that leaves his audience open-mouthed.
IGOR MARIJUAN
As the co-founder and Director of Ibiza Global Radio, musical director at Akasha Ibiza, music curator for the Playground Camp at Burning Man and Pareidolia promoter, Igor Marijuan is fully immersed not only in Ibiza's electronic music scene but the global industry.
He has and continues to hold many residencies on the White Isle, including Akasha, Beachouse, Rumors, Do Not Sit, Acid Sundays, Space Ibiza, Solomun + live, Kumharas, and Dystopia at Ushuaïa Ibiza among others. He describes his sessions as a perfect balance between easy listening and smart sounds that range from organic to afro and melodic techno.

ALEX KENNON
Inspired by the soul and funk music he grew up with as well as his passion for the New York and Detroit house music scene, Alex Kennon's sound is marked by his love for vocals and hits the sweet spot between house and techno – always with an irresistible groove.
After winning the title of 'best breakthrough' artist at the 2018 DJ Awards, he has become a regular on the Ibiza club scene as well as touring internationally. His collaboration with Pete Tong, "Apache", dominated the airwaves for weeks and was released on Crosstown Rebels, followed by his single "Lightning Strikes" that was signed to Joris Voorn's label and remixed by the head honcho himself. Alex Kennon continues to be one to watch as his star rises!
ROGER SANCHEZ
A true icon of house music, Roger Sanchez came from humble beginnings in New York City to dominate the dance floors and headlining festival main stages in every corner of the globe.
Starting out in the late 80s in a time and place where Hip-Hop, House Music, and "turntablism" all collided, Roger seized his moment and began to build his empire on vinyl and slipmats which has expanded into a massive collection of over 2,000 original productions and remixes.
Releasing music under a multitude of names, Roger has been able to maintain the essence of his sound and has created many huge hits including the iconic anthem "Another Chance", as well as remixes for superstars such as Dianna Ross, Daft Punk and Madonna.
For further information and VIP table reservations please visit linktr.ee/ibizaglobalfestival.