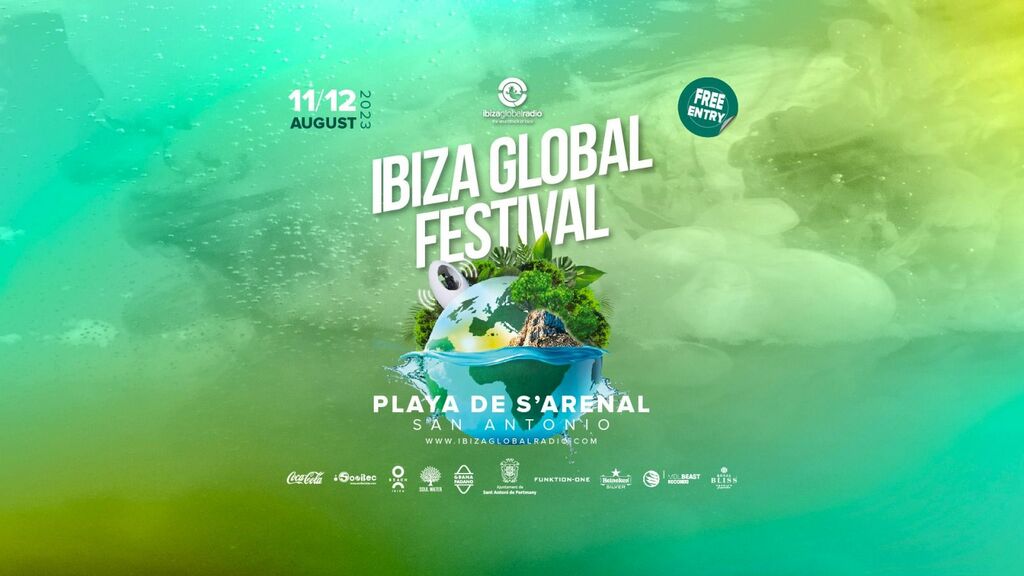 JULY 19TH, 2023
Ibiza Global Festival set to return for a sizzling second edition
Ibiza Global Festival is set to make its grand return this summer – even bigger and better than last year!
After a hugely successful debut in the summer of 2022, the Ibiza Global team is already working hard behind the scenes to bring back the two-day electronic music event to Ibiza this August.
And that's not all! Always ready to go above and beyond expectations, for 2023 further dates in Spain and Italy have been announced to take the sound of Ibiza beyond the Balearic Islands.
But let's start at the beginning.
After the immense success of the electronic music gathering's first edition in August 2022, this year the eco-conscious festival is set to return to the shores of S'Arenal de San Antonio with full support from the local government.
Like last summer, the event will once again be admission-free and bring a wide array of international headliners, local artists and, of course, Ibiza Global's very own resident DJs to a huge stage overlooking the beach and the Balearic Sea.
Taking place across the weekend of the 11th and 12th August 2023 from 17:00 until 1:00 each day, the key message of the free event will be to promote an eco-conscious lifestyle with the support from leading DJs and artists of the global electronic music scene.
For tickets and further information click here!
Following on from last year's wildly successful debut edition of the Ibiza Global Festival, which was headlined by Luciano on Day 1 and Nick Fanciulli on Day 2, expectations are high for the event's return.
Ibiza Global Radio CEO Daniele Luppino says, "Last year we took on the challenge to bring a free two-day electronic music festival to Ibiza for the first time, and we were immensely proud to see how well it was received by the island. With 15,000 electronic music lovers dancing on San Antonio's largest beach on each day, we set the bar high for this season – but I have every faith that we can deliver – and exceed expectations – again."
With the entire Ibiza Global family passionate about protecting the environment – and especially our beautiful island home – a number of eco-friendly measures will be implemented at the event, such as the use of recyclable cups and biodegradable ashtrays – with more to be announced.
Furthermore, the team from Amistat Island Hostels will once again supply a team of eco-conscious volunteers to keep S'Arenal beach clean throughout the two-day event.
An exciting new partnership for 2023, eco-friendly water brand Soul Water is set to keep revellers well hydrated with their naturally sourced mineral water, easily recognisable thanks to their distinctive, eternally recyclable cans.
Meanwhile, Ibiza Global Festival's main partner and hospitality expert, O Beach Ibiza, will be managing the bars on the event site. And, once again, a dedicated street food area will be serving up tasty treats from a variety of vendors to keep revellers energised for the 14-hour dance marathon.
While the line-up for this year's event is still being kept a well-guarded secret, expect to see a juicy selection of artists that ranges across the house, deep house, tech house and techno genres, as well as an array of amazing live music acts.
Excitingly, last year's sponsor MDLBEAST Records – a trailblazing platform championing culture, creative expression and electronic music in the Middle East – returns to bring Saudi Arabia's emerging talent to the White Isle.
The festival will be supported by technical partners Sonitec and Funktion-One to deliver powerful and crystal-clear sound to the shores of S'Arenal beach.
Those who can't be there in person have the chance to listen to the event unfold via all Ibiza Global platforms; including 100.8 FM on Ibiza and Formentera, Ibiza Global TV, the official Ibiza Global Radio app as well as Facebook and Instagram live.
And that's not all! After its 2023 launch on the White Isle, the Ibiza Global Festival will travel to mainland Spain, with two further dates confirmed for Barcelona and Madrid in September, and one date in Milan, Italy, in November.
As always, for further information stay tuned on Ibiza Global Radio and our social media channels and website – we can't wait to dance with you again!