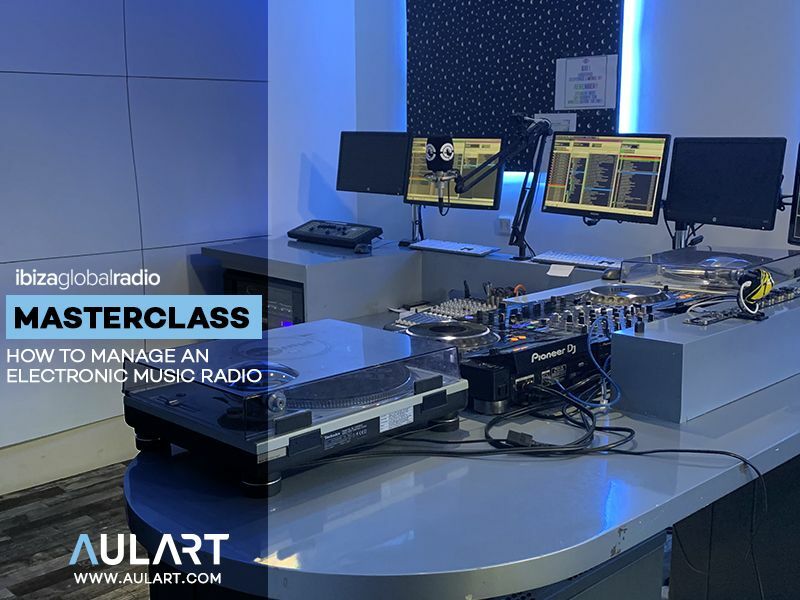 FEBRUARY 18TH, 2020
Ibiza Global Radio and Aulart.com launch masterclass on how to manage an electronic music radio station
The masterclass, filmed at Ibiza Global Radio's studios, reveals the secret behind one of the most important electronic music radio stations in the world.
From today, the masterclass is available for free on the Aulart website, which also offers other free masterclasses with Pig&Dan and Marc Marzenit.
Aulart Music Masterclass, the online platform aimed to teach electronic music production, launches a new masterclass aimed to help you become a Radio DJ and manage an electronic music radio station.
This masterclass consists of more than 2 hours of classes and is divided into 9 chapters revealing the tools, techniques, and concepts necessary to enter the world of broadcasting. The masterclass has been recorded in collaboration with Ibiza Global Radio, one of the most prestigious radio stations worldwide in the field of electronic music.
Learn to manage a music radio station or become a Radio DJ
How is a radio station internally structured? What are the main roles within a radio? What is the difference between a club DJ and a Radio DJ? These are some of the questions that Anna Tur, director at Ibiza Global Radio, will reveal to the Aulart users.
"It has been a pleasure to collaborate with Aulart in the recording of this masterclass. Thanks to all my years of experience, I hope that enthusiasts and users can move forward in their dream of dedicating themselves to radio and that together we can spread the culture of electronic music even more", says Anna Tur, director of Ibiza Global Radio.
In addition, from its studio in Ibiza, Anna Tur exclusively explains to all the users the secrets behind the management of a music station: From the creation of jingles, the selection of music and DJs and the organization of marketing campaigns.
The masterclass is available from today, February 18th, upon registration at www.aulart.com. Registered users can enjoy the masterclass by accessing with their username and password.
The masterclass trailer can be seen here
About Aulart Music Masterclass
Founded in 2017, Aulart Music Masterclass is an educational platform that offers online masterclasses in video format with the most respected electronic music producers. Each class is divided into chapters and offers a unique level of knowledge. 
Up until February 2020, Aulart Music Masterclass has launched 7 masterclasses with some of the most well-known electronic music producers worldwide, such as Henry Saiz and Davide Squillace. The premium masterclasses are available upon registration from 29,90€ up to 70€.
More information at www.aulart.com.