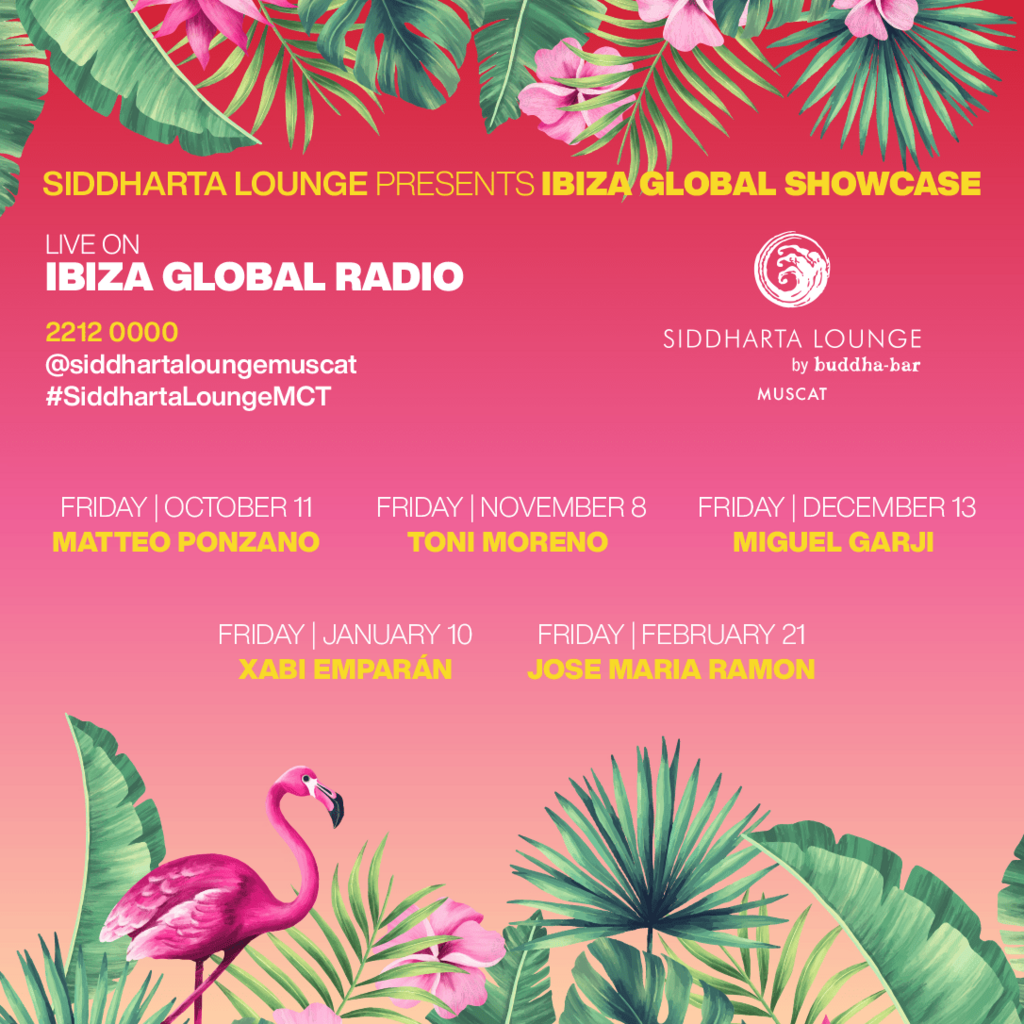 SEPTEMBER 27TH, 2019
Ibiza Global Showcase at Siddharta Lounge by Buddha Bar Muscat
W Muscat's highly anticipated rooftop paradise is here and Ibiza Global Radio showcase heads to Oman for the very first time to the dazzling adult-only playground, complete with infinity pool, mouthwatering mixology, and jaw-dropping views.
Overlooking the sweeping coastline of Shatti Al Qurum, the iconic restaurant Siddharta Lounge by Buddha bar and lounge offers a vibrant atmosphere in the most glamorous of settings day and night, fueling fun with its social dining concept and the best of the Mixologist's cabinet. Buddha-Bar's signature musical identity will also be in full form, with a subtle mixture of captivating Electro-Ethnic rhythms and tribal sounds, played each evening by a resident DJ.
For the first ever time, Ibiza Global Radio heads to Muscat, meaning that guests can look forward to a number of upcoming showcases for an epic series of parties inspired by the White Isle itself. The five-month long programme will be broadcast live on Ibiza Global Radio TV, offering Muscat a truly unique compilation of Balearic beats and melodies all night long with some of Ibiza Global Radio's top Resident DJs. The lineup includes Matteo Ponzano, Miguel Garji, Xavi Emparan and Toni Moreno and Jose Maria Ramon. And on December 31st Anna Tur will be in charge of putting the soundtrack to the last dance of the year and the first of 2020.
"True to form, Siddharta Lounge has burst onto Muscat's social scene with style. The ideal surroundings for spending all day through to night in a relaxed and festive atmosphere, not to mention incredible sunset views, it's drawn a "wow" from everyone that's visited. Whether you're looking to strut your stuff, share an intimate meal with friends, or take some much-needed chillout time, Siddharta Lounge is the place to be," said Gerald Chevasson, General Manager of W Muscat.
Taste the sublime with Siddharta Lounge's array of Mediterranean flavours with a playful Asian twist. A variety of healthy, fresh and wholesome dishes, ranging from nibbles to sharing options, will delight the taste-buds and the eyes in equal measure. Or quench the thirst with the brand's signature mixology that is no less than art.
The exterior space presents an extensive plateau where reclining sun loungers, stylish cabanas and a sunken bar await. The 300sqm infinity pool suggests the edge of the drop, with direct bar access and unmissable views over Muscat. Statement plants and lights create an added ambience.
From mixing and mingling with signature sips near the DJ booth to soaking it all in at the elevated infinity pool, Siddharta evokes a new sense of freedom, the ultimate tipping point to wind down or play hard. As night transcends the place comes alive as Muscat's place to see and be seen.
Follow Siddharta Lounge by Buddha Bar: