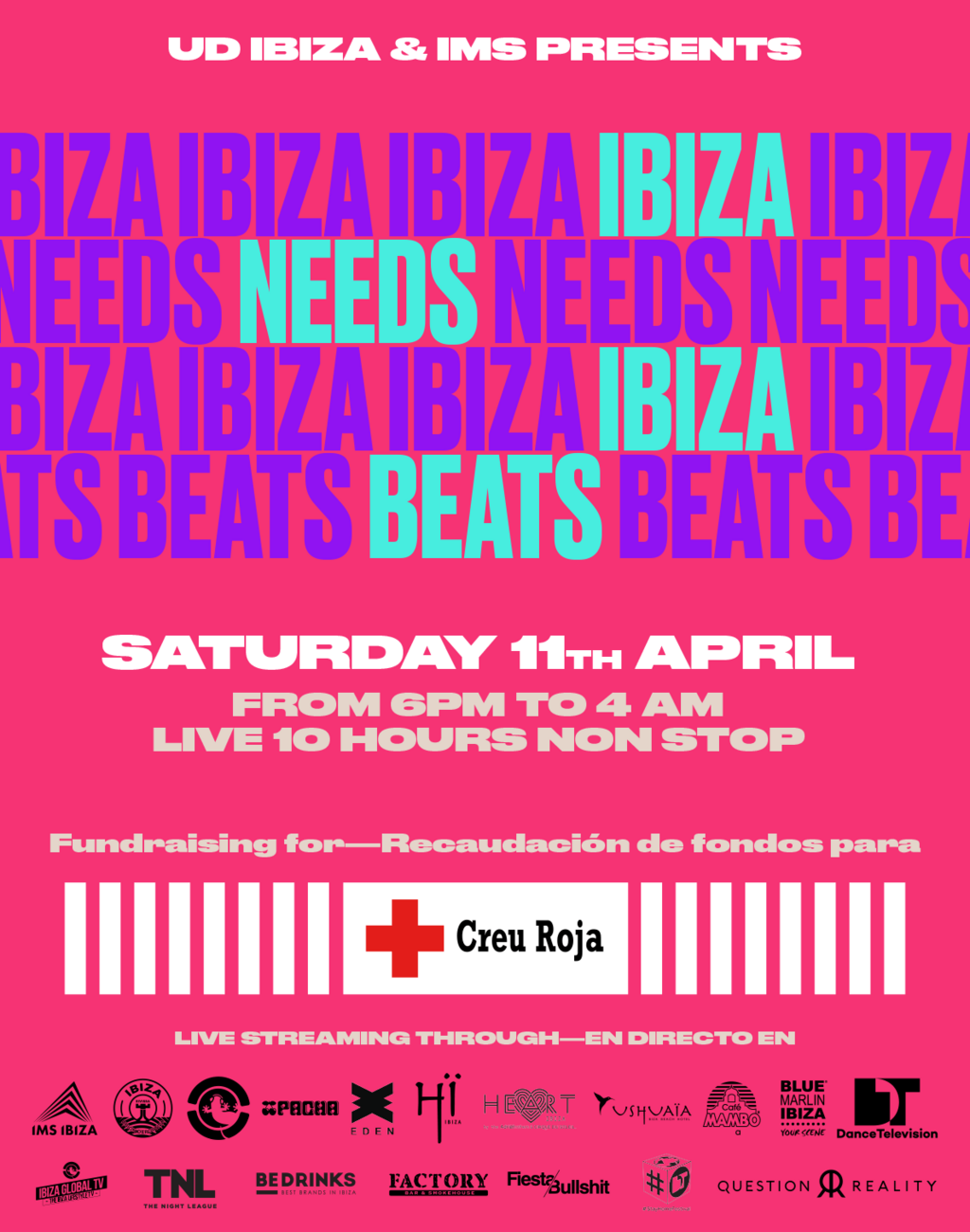 APRIL 08TH, 2020
Ibiza Needs Ibiza Beats: Fundraiser for the Red Cross in Ibiza
Special times call for special measures and the current global health crisis requires just that. As such, on April 11th from 6pm CET, the biggest brands on the White Isle including the world-renowned Ibiza Global Radio and International Music Summit, plus iconic clubs such as Blue Marlin Ibiza, Ushuaïa Ibiza, Hï Ibiza, Pacha Ibiza, Café Mambo and many more will all come together in support of the Red Cross in Ibiza.
A non-stop stream of music from huge international DJs live on DanceTelevision's Stay Home Festival via stayhomefestival.org will invite donations via gofundme.com/f/ibiza-needs-ibiza-beats-for-cruz-roja-ibiza and this unique online rave will bring together the whole of Ibiza's dance music community with the full and world-class line-up to come on Thursday.
COVID-19 does not discriminate between borders or countries, it affects us all. While we all do our part by being responsible and staying at home, we can do more and contribute to helping the medical practitioners on the frontline. This is why in Ibiza, UD Ibiza and International Music Summit, along with multiple organizations from the entertainment industry such as Ibiza Global Radio and Dance TV, are joining forces to create a very special live stream to raise money to provide the Red Cross in Ibiza with much-needed support and relief in the fight against COVID-19.
——–
Ibiza Needs Ibiza Beats: Recaudación de fondos para apoyar a la Cruz Roja en Ibiza
10 horas de streaming ininterrumpido de artistas locales e internacionales mas representativos del momento para recaudar fondos que irán íntegramente destinados a Cruz Roja en Ibiza.
Un evento promovido por UD Ibiza e International Music Summit, junto con varias organizaciones de la industria del entretenimiento como Ibiza Global Radio, Ibiza Global TV y Dance TV, junto con los representantes de ocio más representativos de la isla, unen fuerzas para crear una transmisión en vivo muy especial de 10 horas ininterrumpidas de directo y así recaudar fondos para ayudar a Cruz Roja Ibiza y aportar nuestros recursos para los que mas lo necesitan. Se puede donar aqui: gofundme.com/f/ibiza-needs-ibiza-beats-for-cruz-roja-ibiza
El 11 de abril, de 18h a 4h, escucha, mira y baila al sonido de algunos de los artistas más grandes del mundo, en directo en la Stay Home Festival de Dance TV: https://stayhomefestival.org/ y en las páginas de Facebook de Ibiza Global Radio, Ibiza Global TV, International Music Summit, UD Ibiza, Blue Marlin Ibiza, Ushuaïa Ibiiza, H Ibiza, Pacha ibiza, Café Mambo, Factory Bar, The Night League, Fiesta & Bullshit, Eden Ibiza, Question Reality, Be Drinks y Power Electronics.