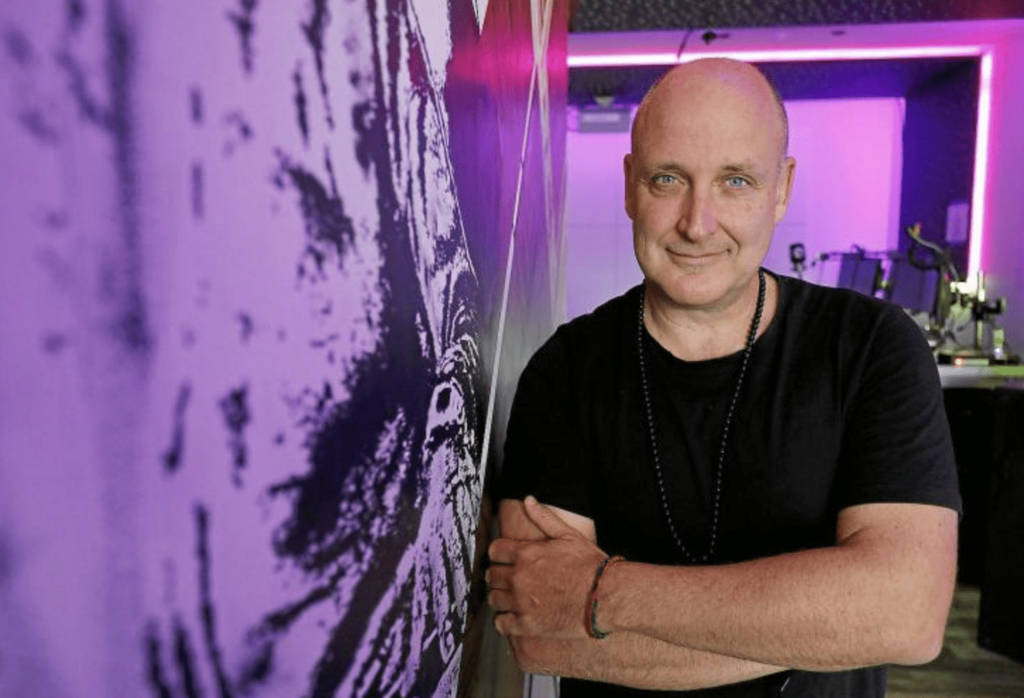 MAY 02ND, 2023
Igor Marijuan returns to the airwaves of Ibiza Global Radio
By Toni P. Picture by Daniel Espinosa.
DJ and musical promoter Igor Marijuan has taken over the operational direction of Ibiza Global Radio, part of the Grupo Prensa Pitiusa, as of April 2023. A station to which he returns after having witnessed its birth in 2004, and for which he directed the programming for two years before starting his own adventure by founding a new station, Ibiza Sónica.
Marijuan will combine the direction of Ibiza Global Radio with the musical direction of Akasha in Las Dalias, as well as continuing his work as a DJ and promoter in Pareidolia, and publishing for Truelove Music – among other musical curator functions.
The CEO of Ibiza Global Radio, Danielle Luppino, was "very happy to incorporate Igor into our team. He is a man who represents the history of electronic music in Ibiza, he was part of Ibiza Global Radio from day one. He has a unique experience in the world of radio that is precious when incorporating him as the operational director of Ibiza Global Radio in this moment of expansion and development that we are developing throughout the world. After Dubai and Madrid, we are studying opening radio stations in other parts of the world and Igor's experience is essential for this program that we are developing at Grupo Prensa Pitiusa."
"Since I can remember, I have done radio," explained the new director of Ibiza Global Radio, who is celebrating his return to this medium after a hiatus that began with the arrival of the pandemic in 2020 when "I needed to take a break and stop for a moment. What happened is that I am very radio and, when they offered me to participate in this project, I jumped in headfirst."
Marijuan was the founder and owner of Ibiza Sónica, coordinator of Cadena 100 in Ibiza, after having been working in different stations in his native Malaga since he was in high school, when he was already in the Antena 3 Radio studios. At first ordering records and putting spots and, in the end, directing stations like Antena 3 or Cadena Ser before coming to Ibiza. However, one of the most exciting moments that the new operational director of Ibiza Global Radio remembers is the birth of this same station in 2004.
"I was a director for the first two years. At that time I had the opportunity to design the product. At that time there was no station 100% dedicated to electronic music and it worked very well. You have to keep in mind that I came from a pop station where we went from playing Rosario's songs to putting on a techno and house program, which was increasingly in demand. For this reason, when Joan Tur proposed this project to us, we jumped headfirst and created a very beautiful and very funny story that ended up working very well.
"It was the perfect reflection of what was happening in Ibiza in 2004. In addition, we were lucky to experience, from the very beginning, the arrival of the internet on the radio. That meant taking away the local station complex to realise that the whole world was listening to us. It was nothing progressive: it was going from zero to 100 in seconds. It was very exciting," he recalls.
Regarding his plans as the new operating director of Ibiza Global Radio, Marijuan explains that "on the one hand, I can continue playing with the line that Global has, innovative, transgressive and doing original things. On the other hand we are going to try to continue renewing the radio. Evolve the term 'radio', which for the new generations may seem obsolete, and give it a fresh air to evolve it and make it a medium that continues to be listened to. Maybe it's not exactly 'radio' or, maybe, it's another story that will have a lot to do with the visual part, social networks, new programs, new formulas… If we have been pioneers in creating an electronic music radio, why aren't we going to be pioneers in creating new formulas?"
Among the novelties that Marijuan brings under his arm, the new operational director anticipates "a new format for great artists who do not have the time or resources to make radio programs to have their space on Ibiza Global Radio. I want to raise the profile of the radio, make it a selector radio," he says.
In this sense, he explains that "there will be a lot of live shows from the new summer studios in Platja d'en Bossa with spectacular views. There will be a lot of international DJs and a lot of local talent. The slots in which there will be no live shows will be the turn of the selection and the musical curator in which experts and great artists from all over the world will leave us their vision of what should sound on the radio."
As for the future, the new operating director of Ibiza Global Radio does not take away the focus on "continuing to organise festivals and expanding, that Global sounds from Ibiza to the world", he concludes.
Originally published in Spanish on www.periodicodeibiza.es.