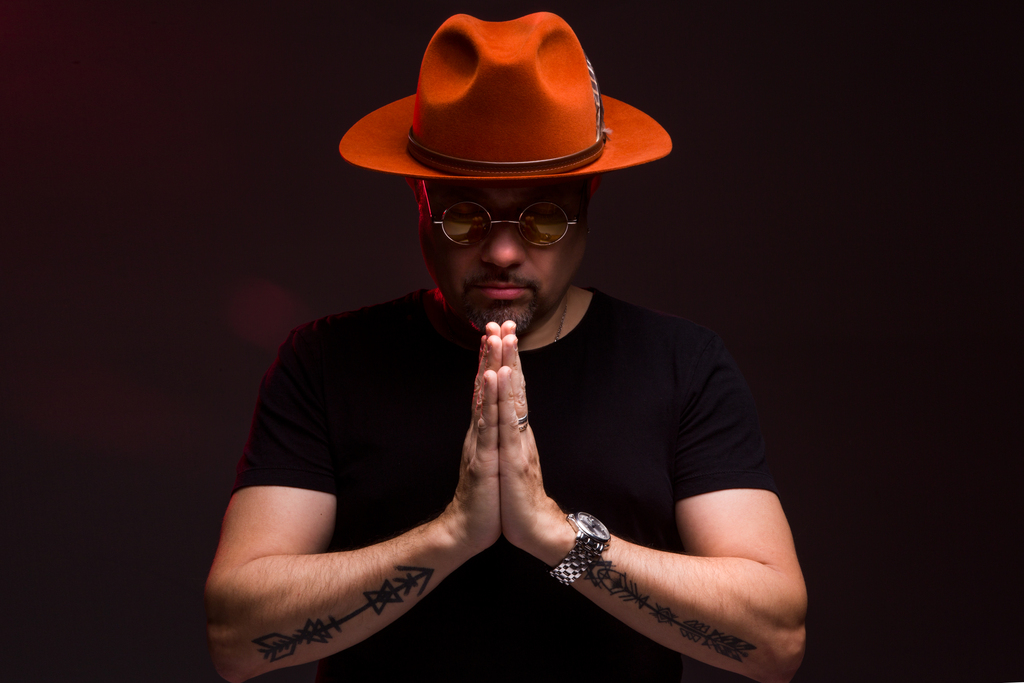 MAY 11TH, 2022
Louie Vega: "I'm a musical chameleon. The world inspires my style."
With a stellar career that spans over two decades, a Grammy Award and six nominations to his name, as well as an incredible body of work that has shaped the global house music scene, Louie Vega needs no introduction to electronic music lovers and Ibiza aficionados.

Fresh off playing a historic opening weekend on the White Isle as part of Defected Ibiza's Dalt Vila takeover in partnership with International Music Summit, the iconic American DJ and producer took time out of his busy schedule to talk to us about his latest release Expansions in the NYC on Nervous Records, his favourite places for discovering music in his birthplace New York, and a new Masters At Work record…

Thank you for talking to us, Louie! Where are you right now and how are you doing? 
Hello, and thank you! I'm in Ibiza right now and feeling good; today is the actual day my new album, Expansions in the NYC, is officially released. 
You were born and raised in New York. What were your earliest experiences of the music scene in this incredible city? 
My earlier experiences are going to the jams at Bronx River Projects to hear Afrika Bambaataa, Jazzy Jay, Red Alert, Afrika Islam… hearing all the break beats from jazz, rock, funk, soul, punk rock and new wave jams. 
Going to block parties in my neighbourhood checking out the disco DJs, and my sisters dancing in hustle dance contests hearing the Salsoul orchestra. Going with my mom to hear my uncle sing and perform at Madison Square Garden in front of over 17,000 people.
This was the pre-electronic music scene 🙂 
Is the cover of Expansions in the NYC an homage to your birthplace in the Bronx?
The cover is an original art piece by Andrew Thiele, a New York City artist. It's an homage to several neighbourhoods like my own in the Bronx, but also could be the Lower East Side or even Brooklyn. It definitely represents New York City Culture in general through music and the arts. 
How has growing up in the city influenced your musical preferences and own style?
Growing up in New York City has definitely been a big part of my style. But then travelling the world to so many cities and countries affected me, too. The influence comes from my life experiences. That involves New York City and the World. 
Can you share some of your favourite places or events to enjoy electronic music in the city?

Starting with record stores, in New York City I go to A1 and across the bridge in Brooklyn, I like Cosmic Arts, Humanhead and Captured Records. While you're in the neighbourhood, why not stop by Lot Radio and Eavesdrop, two great music cafes. For a bite to eat, I recommend Wei's Kitchen or the Monarch Rooftop. Afterwards, you can dance the night away in underground clubs like Le Bain with Nulu Movement or House of X in NYC, Knockdown Center or Nowadays in Queens, and House Of Yes in Brooklyn. 
You have an incredible and varied list of collaborators on this record – how did you go about selecting them? 
First off, the album was inspired by a night I curated in 2019 called Expansions NYC. I would have unannounced jam sessions at 3am with Axel Tosca on keyboards, Toni C on guitar, Ritmo Y Tumbao & Sting Ray on percussion, Poet Sigah lyrics, trombone, flute player and singers on occasion. 
The jams were recorded along with my six-hour sets on Wednesday nights. I would listen back while travelling and get ideas to record in the studio. On the road, I was meeting lots of my friends and peers and we would speak about work, and as I built the foundation to the album these artists I met fit perfectly with this project idea. 
What was it like working with artists across so many different genres?
I'm a chameleon myself as a producer, so it was natural to work with many of these artists. We all gelled and complemented each other in the studio, and when writing the songs. 
Will we see you in Ibiza this summer? 
Yes, I will be in Ibiza, where The Ritual With Anané & Louie Vega will do spot dates at Blue Marlin Ibiza and another venue (I can't say where yet). I will also guest spot with the families: The Martinez Brothers night, Black Coffee, and Glitterbox. 
After two years of the clubs being closed, a historic summer season awaits on the island – what are your expectations? 
It's going to be amazing, you can feel the energy. I've already started touring and all the events are packed houses. Just imagine Ibiza!
What would your ideal day (work and play) look like on the island? 
A club guest DJ spot at Hï Ibiza with the Family (as named above), then Benirras Beach or a spa (there are several) and a nice dinner at the new Standard Hotel in Ibiza Town the next day! 
What else can we look forward to from Louie Vega in 2022? 
This wonderful new album Expansions In The NYC, out on Nervous Records! 
A new project, the "Take A Ride" Disco EP by Anané (produced by me), and a new collaboration with my bros TMB! And I'm recording a new Masters At Work Album with Kenny Dope for a 2023 release!

Expansions in the NYC is out now on Nervous Records. Head to Spotify to listen to the album.