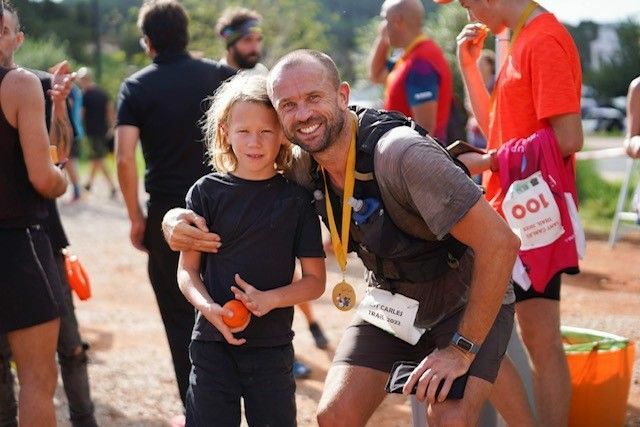 SEPTEMBER 08TH, 2023
MIXMASTERS FOUNDER RUNS 100 MILES FOR MUSIC CHARITY
A leading music innovator is set to take on a gruelling 100-mile run on September 9th 2023 to raise funds for dance music charity Last Night A DJ Saved My Life Foundation.
Leeds-born Danny Savage, who resides in Ibiza and founded music company Mixmasters, will take on the incredible challenge at Pilgrims Ultra Marathon UK in Holy Island with the aim to raise £15,000 for the charities Get Equipped initiative.
With a creative approach driven by charitable action, Get Equipped takes surplus DJ, Production and Music kits, donating them to educational and community organisations that support children and young adults in the UK and beyond.
With support from a team of inspiring DJs and producers, it teaches young people how to play, mix and make new music using the donated kit, giving access to music education where there isn't any.
The project itself helps to build confidence, elevate the positive profile of street youth, and provide a safe space to learn whilst encouraging self-discovery, stress relief and emotional release through the power of music and art.
Danny has participated in two previous trips to deliver the Get Equipped project with the Last Night A DJ Saved My Life Foundation. He reached the summit of Kilimanjaro with the charity back in 2019 and also visited their projects in Tanzania.
He said, "I love Get Equipped and its possibilities. I have seen first-hand the impact of the project and what it means to children and young adults. It was a moving, vibrant, educational and cultural experience."
The proceeds raised from this particular challenge will go towards building a new music studio in Sierra Leone, Africa, at WAYout Arts. Danny will visit the capital Freetown this year, and train with national runners from Sierra Leone whilst there.
Danny is not shy of a challenge, and as part of his training completed a number of extreme runs, including the Ibiza marathon and the Formentera Ultra 74km in April, as well as the Benfeita 22km in August.
Danny comments on the reasons for wanting to support the charity, "Like many creatives in the music industry, I faced challenges with mainstream education and its one size fits all approach to learning. I was so grateful that I had access to a set of decks as this really changed my life and opened up a world of possibilities and exciting and varied career paths. I want to be able to help offer these opportunities to other children who may be struggling like I was."
Jonny Lee, the charity's founder, said, "We're thrilled to announce Danny's challenge. I'm in awe of his determination. I have every faith that he'll not only complete his 100-mile run but hit his £15,000 target too. We are so lucky to have Danny as such a supporter of the charity and for all the work he has done for our Get Equipped project. Not only has he taken on this challenge, but Mixmasters recently donated £10,000 worth of retreat days for a house music production retreat for Mash P, the key Sierra Leonian artist he will be providing funds for to build a studio in his home town."
To support Danny on his journey and learn more about his pioneering work in education in the music industry, visit www.justgiving.com/campaign/dannysavage100milerun.
Last Night A DJ Saved My Life is a registered charity in England & Wales no 1142478.