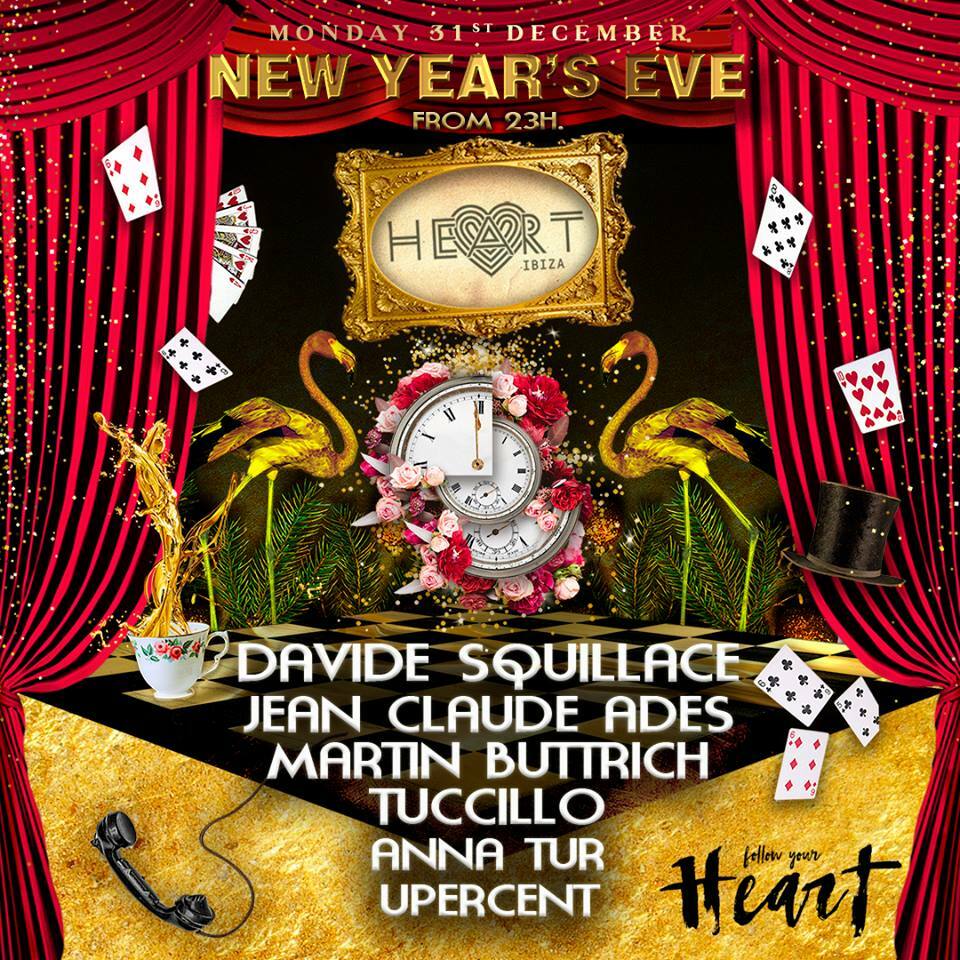 NOVEMBER 26TH, 2018
NEW YEAR'S EVE AT HEART IBIZA
Now is the moment: Close your eyes … make a wish … and follow your heart!
Look at the clock, you are on the board of life, where everything is a game. But do not waste your time, because if you knew about it as well as we did, you would not talk about losing him.
Come to the party where you can be yourself, where nobody decides what is appropriate, just you.
Come and experience a different way of saying goodbye to the year surrounded by special people, good music and the best atmosphere you can imagine.
Let's count together the hours, minutes and seconds, live the chimes, live Heart.
We are please to announce the great lineup that will make you enjoy and feel all night: DAVIDE SQUILLACE, JEAN CLAUDE ADES, MARTIN BUTTRICH, TUCCILLO, ANNA TUR & UPERCENT.
DAVIDE SQUILLACE
Davide Squillace is certainly not one to rest on his laurels: the Italian DJ/Producer could lay claim to being one of the busiest artists in electronic music. Each year that passes sees Davide increasingly adding to his ever-expanding repertoire and range of creative projects.
Davide Squillace is clearly an established and internationally renowned producer and DJ, with touring and production credentials that speak for themself. However, it's his constant dedication to pushing the boundaries with a multitude of new creative ideas that marks him out as a true artist. With so many new projects and ideas in the works, somehow it still feels like the beginning of even bigger things to come for Squillace.
JEAN CLAUDE ADES
The French / German producer has been a key fixture on the white isle for the last few years – his BeCrazy! night having established him as a one of the most sought after names on the house music scene globally. Whether he's hosting his own party, guesting at the premium clubs around the world or locked away in the studio – Jean Claude brings a passion and authenticity to his work that never fails to inspire.
His flair for deep, techy house music and how to keep a dancefloor rapt over a long night is a skill few can master.
MARTIN BUTTRICH
Martin Buttrich is famously as fluent behind a mixing console as in front of a virtual drum kit. That technical prowess, combined with a fascination for music of every shape, has resulted in outstanding releases on influential labels such as Planet E, Four:Twenty, Cocoon, Poker Flat, Nervous and Desolat.
When people say "Buttrich's music sounds amazing", they're not just talking about the catchiness of his compositions or the way he manipulates beats into unique tapestries.
TUCCILLO
Tuccillo's sound productions are recognized in radios and labels around the world placing his compositions in the most important charts, with releases that endorse and confirm him as one of the most promising musical creators. If we had to use a word to define Tuccillo's sound, it would be class … His extensive knowledge and experience as a musician, and the good taste he applies in his concept of what dance music should be in this 21st century, defines his success and the character that permeates its sound.
ANNA TUR
Anna has had a link with music since she was a young girl, starting her artistic career in 2010. Nowadays, her name appears in the booths of the best clubs in the underground scene, a fact which has helped her to catapult to international fame, and means that she is living in unending activity, accumulating performances in the five continents. visiting the best clubs and festivals of the planet.
Anna, above all, is a romantic. A lover of music, radio and her native island, Ibiza.
UPERCENT
Upercent is a unique and very special artist who can't go unnoticed! Born and raised in Valencia (Spain), he's one of the most natural talents among electronic music producers with a strong determination to revolutionize the scene by giving his own input, with such a great attention and dedication to details and elements that creates his musical difference.
This NEW YEAR´S EVE, feel your heart beating at HEART IBIZA!
And remember … #followyourheart