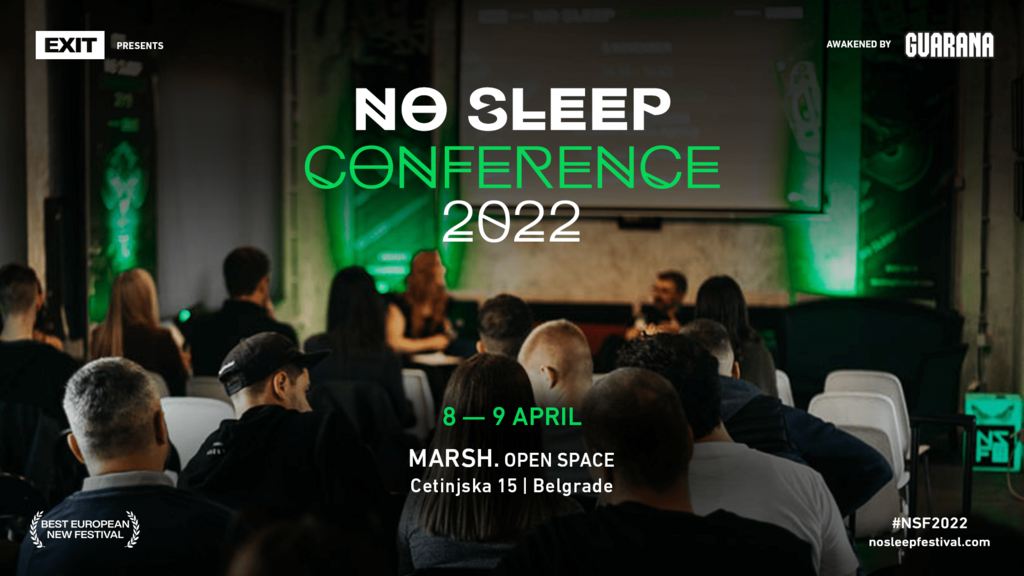 APRIL 04TH, 2022
No Sleep Festival 2022 adds No Sleep conference to programme
The EXIT team, creators of No Sleep Festival, has added the traditional No Sleep Conference to the programme of the upcoming spring edition of the event, which will include a selection of panel discussions and specialised music workshops.
Led by the likes of Nina Kraviz, Stephan Bodzin, Sébastien Léger, Agents Of Time, DJ Tennis, DVS1 and DJ Bone, this year the electronic music gathering will also be celebrating its Best New European Festival award win.
Taking place on April 8th and 9th at the Marsh Open Space in Belgrade, the No Sleep conference 2022 will tackle some of the hottest topics related to the music industry right now, including NFTs, "cancel culture", the mental health of young people, new trends in contemporary music, post-COVID experiences and expectations of the entire music industry in 2022.
Founder and director of the EXIT festival, Dušan Kovačević, Miki Elson from the London ArtSect Gallery, co-founder of the SolSea platform and All Art project, Jovan Tišma, and programme director of the TMRW conference Zoran Tadić will all speak at the panel titled, "EXIT the Metaverse", which will discuss the merger of the Metaverse, NFTs, and the creative industries.
Young people's mental health will also be one of the most prominent topics of this year's No Sleep conference.
On Friday, April 8th, Kseniia Mikhailova from UNICEF, Sanja Đurović from the Heart Association, Andrea Mezei Rokvić from the Temenos Psychological Centre, and Jelena Jung, EXIT Festival's mental-health specialist, will talk about the impact of the pandemic, social distancing and lack of interaction, as well as the importance of festivals in this context, while Miloš Martinov, also known as DJ Lag, will share his experience from a performer's point of view. 
Meanwhile, Luka Jovanović Luxonee from the Bassivity Music label, IDJ Digital director Bojan Muslin, and rapper Fox will talk about new trends in contemporary music.
As part of the music workshops that will take place on Saturday, April 9th, young artists will have the opportunity to learn the basics of DJing with a legend of the Detroit techno scene, DJ Bone, who will be revealing some of the tips and tricks he has collected during his 30-year career.
Meanwhile, the Special Spring Edition of No Sleep Festival will be headlined byNina Kraviz, Stephan Bodzin, Agents Of Time, DJ Bone, and Sébastien Léger.
Taking over the Matrez hangar, they will be joined by DVS1, DJ Tennis, and Daniella Da Silva B2B SUMIA. 
A strong hip-hop and trap line-up featuring local talent such as Crni Cerak, Spejs Noksi, Kene Beri and many others will complete the musical offering. 
Admission to the No Sleep conference is free, with a variety of ticketing option for the No Sleep Festival.
Further information on the final line-up and conference programme, available at nosleepfestival.com.