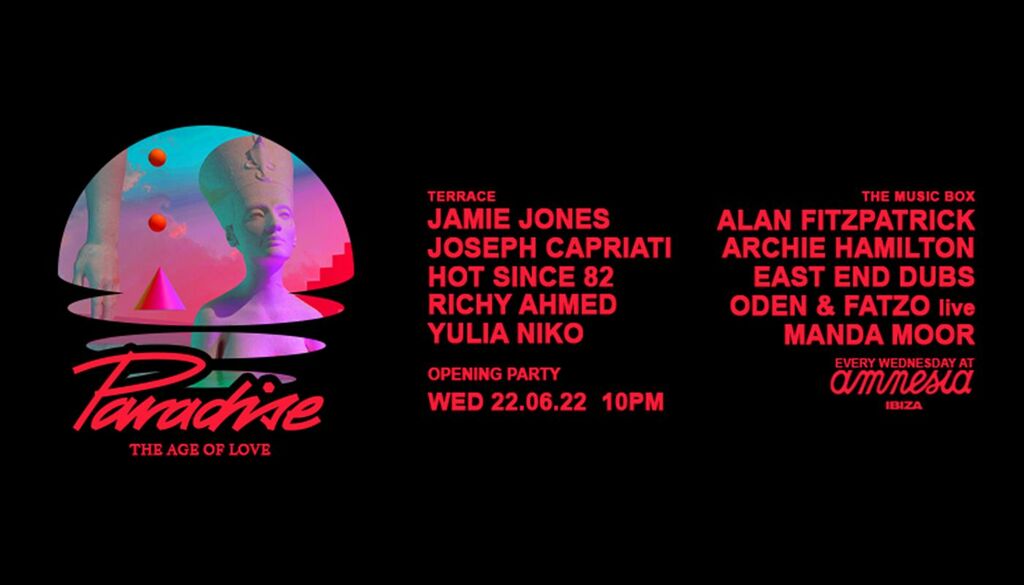 JUNE 21ST, 2022
Paradise Opening Party: Get ready for The Age of Love
On Wednesday, May 22, Jamie Jones will cut the ribbon on a brand new season for the Paradise crew when they take over the iconic Amnesia Ibiza for the summer of 2022.
Under the motto of The Age of Love, the Hot Creations boss will lead a cast of top DJs including Joseph Capriati, Hot Since 82, Richy Ahmed and Alan Fitzpatrick among others.
Kicking off with an Opening Party to remember, The Age of Love is a concept in which the dimensions of past, present and future unfold simultaneously. His world-famous Paradise brand expands its universe and invites clubbers into a surreal world presented by the man himself, Jamie Jones.
Amnesia Ibiza's Main Room will mutate into The Music Box, an immersive space with its own look, atmosphere and powerful sound system.
New residents Manda Moor and East End Dubs will be in charge of providing musical freshness, accompanied by Alan Fitzpatrick, Archie Hamilton and a spectacular live performance by the French Oden & Fatzo on The Terrace.  
Adorned with abstract shapes and imposing statues, a special musical experience where anything goes awaits, featuring vibrant dancers and colourful performers in fancy costumes created by avant-garde designer Kate Tabor.
The soundtrack of the opening arty will be in provided by newcomer Yulia Nikko, the great Joseph Capriati, Hot Since 82, Richy Ahmed and, of course, Jamie Jones, who will close the party at the magical light of dawn.
Tickets are available via amnesia.es.