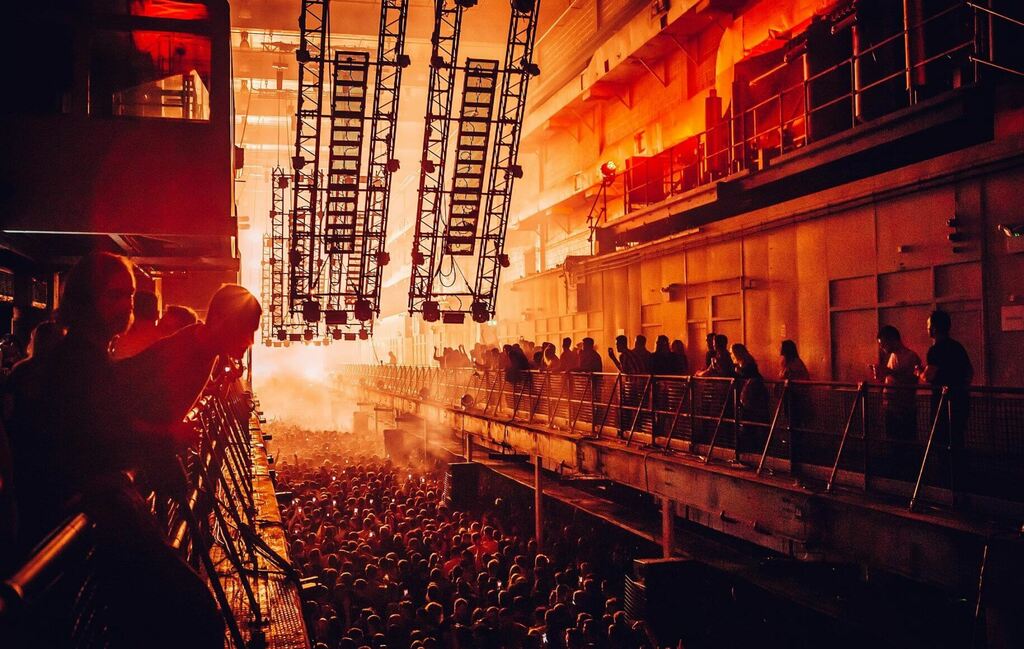 AUGUST 13TH, 2021
Printworks London announces full line-up for autumn and winter
Just a few weeks after music-loving Brits were officially allowed to return to the dancefloor without restrictions, famous East London venue Printworks has announced a full line-up for autumn and winter 2021 – and it's BIG.
With the likes of Chemical Brothers, Richie Hawtin, Adam Beyer and Todd Terry leading the charge, we have no doubt that tickets will be selling out like the proverbial 'hot cakes'. But, with a capacity of up to 5,000 clubbers spread across 12 acres of interconnected warehouse spaces, there is plenty of room to accommodate party-hungry electronic music lovers.
A total of 30 events spanning the house, techno, dubstep, disco, drum & bass and other genres have been announced to take place between September 17th and December 18th 2021, featuring more than just a few world class names!
The first three parties will be curated by Redacted, a new concept that keeps line-ups under wraps until the day of the event, and with a strict 'no phones on the dancefloor' policy.
Other special dates to look out for include Oliver Heldens' Heldeep, Claptone's otherworldly house music extravaganza The Masquerade, and an Afterlife takeover presented by Tale Of Us – but to be honest, the line-ups all look epic!
SEE THE FULL PROGRAMME BELOW:
Friday 17th September / Redacted
Late Night Movements
Saturday 18th September / Redacted
To The Floor
Sunday 19th September / Redacted
Low End Theories
Thursday 23rd September 
Squid (Live)
Saturday 25th September / Oliver Heldens Presents: Heldeep
Oliver Heldens
Topic
Leftwig:Kody
PBH & Jack
Very Special Guest: Roger Sanchez
Friday 1st October / Soundcrash
Jon Hopkins (DJ)
Modeselektor (DJ)
Apparat (DJ)
Elkka (Live)
Dream Sequence
Actress (DJ)
Chloe
Anchoring (Live)
Sylvere 
Saturday 2nd October / Re:Generate
Adam Beyer
Bart Skils
E-Dancer (Live)
Effy
Len Faki
Rebuke
Elli Acula
Fred P
Steffi
& Special Guest TBA
Saturday 9th October / Green Velvet Presents La La land
Green Velvet
Solardo
Latmun
Eli Brown
Layton Giordani
Alex Kennon
Alisha
Doorly
Gary Beck
Huxley
Mihalis Safras
Friday 15th October / Haçienda Classical
Haçienda Classical
David Morales
Graeme Park
Mike Pickering
DJ Paulette
Friday 22nd October / Claptone Presents: The Masquerade
Claptone
Arielle Free
Edie
Ferreck Dawn
Heidi
Jacques Le Cont
Lars Morsten
Martin Ikin
Todd Terry
Friday 29th October / Joel Corry
Joel Corry
Friday 5th November / La Discotheque
Todd Terje
Artwork
Greg Wilson
Prins Thomas
PBR Streetgang
Felix Dickinson
DJ Paulette
Hannah Holland
Krysko
Sharples
Saturday 6th November / Ellum Audio
Maceo Plex
Adriatique
DJ Pierre
Ellen Allien b2b Boddika
Madben
Raxon
Alinka
Melawati (Live)
AVNU
Special Guest: Stephan Bodzin
Sunday 7th November / ABODE
Lineup TBA
Thursday 11th November / Aurora
Aurora Orchestra
Friday 12th November / Planet Sink The Pink
MNEK
Amanda Lepore
Jodie Harsh
Jungle Kitty & The Cocoa Butter Club
Saturday 13th November / Kings Of The Rollers: Royal Rumble
King of the Rollers & Inja (Serum x Voltage x Bladerunner)
S.P.Y x Randall x Doc Scott + SP:MC
Halogenix x Workforce x LSB + GQ
Benny L x Harriet Jaxxon x T>I + Det
Micky Finn x Aphrodite x Brockie + Trigga
Ill Truth x Zoro x Sabrina + Slay
Mistik x Tempa x Enta
Nutcraka
Annix B2B
Simula
Insideinfo
D*Mind
Zub Zero
Critical Impact
Dazee
Katalyst
TS2W
Hosted by: Skibadee, Jakes, Carasel & Texas 
Friday 19th November / Solotoko
Sonny Fodera
Saturday 20th November / Exhale
Amelie Lens
AIROD
Chris Liebing
DJ Rush
Farrago
Fraz.ier
I Hate Models
IMOGEN
Sam Paganini
Sterac
Volvox
Sunday 21st November / Fuse 13th Birthday
Enzo Siragusa
Cristi Cons
Fabe
Gene On Earth
Rich NxT
Traumer
Anthea
Laidlaw
Michael James
Rossko
Tofo Productions (Thomas Melchior & Fumiya Tanaka)
Friday 26th November / Sub Focus
Sub Focus (Live)
Saturday 27th November / Tale Of Us present Afterlife
Tale Of Us & Guests
Thursday 2nd December / Seaford Mods
Sleaford Mods (Live) 
Friday 3rd December / Dimension
Dimension (Live)
Very Special Guest TBA
Saturday 4th December / Area 10
Press Halls:
MK
Paul Woolford
Nic Fanciulli
Jon Summit
LP Giobbi
Trudy Knight
Inkwells:
Guests TBC
Marcellus
Antss
Friday 10th December / Noisia
Noisia – Last ever London show
Saturday 11th December / Anjunadeep
Asch Pintura
CRi (Live)
Dosem
ICARUS (DJ)
James Grant
Jody Wisternoff
Jon Gurd
Just Her
Leaving Laurel
Marsh
Mia Aurora
Monkey Safari
Olan
Penelope
Richie Blacker
Tinlicker
Sunday 12th December / Bugged Out!
The Chemical Brothers (DJ)
Erol Alkan
Justin Robertson
James Holroyd
Jossy Mitsu
Lemmy Ashton
Friday 17th December / Realm
Gorgon City (DJ)
Nora En Pure
Hayden James
Pax
Meg Ward
Miane
Saturday 18th December / From Our Minds
Richie Hawtin
9999999999 (Live)
Alexis
ANNA
Clara Cuve
Colin Benders
DJ Stingray 313
Fabio Florido
Fadi Mohem
LCY
Octave One (Live)
Robert Hood
Sama' Abdulhadi
For more information and to get your tickets head to printworkslondon.com.