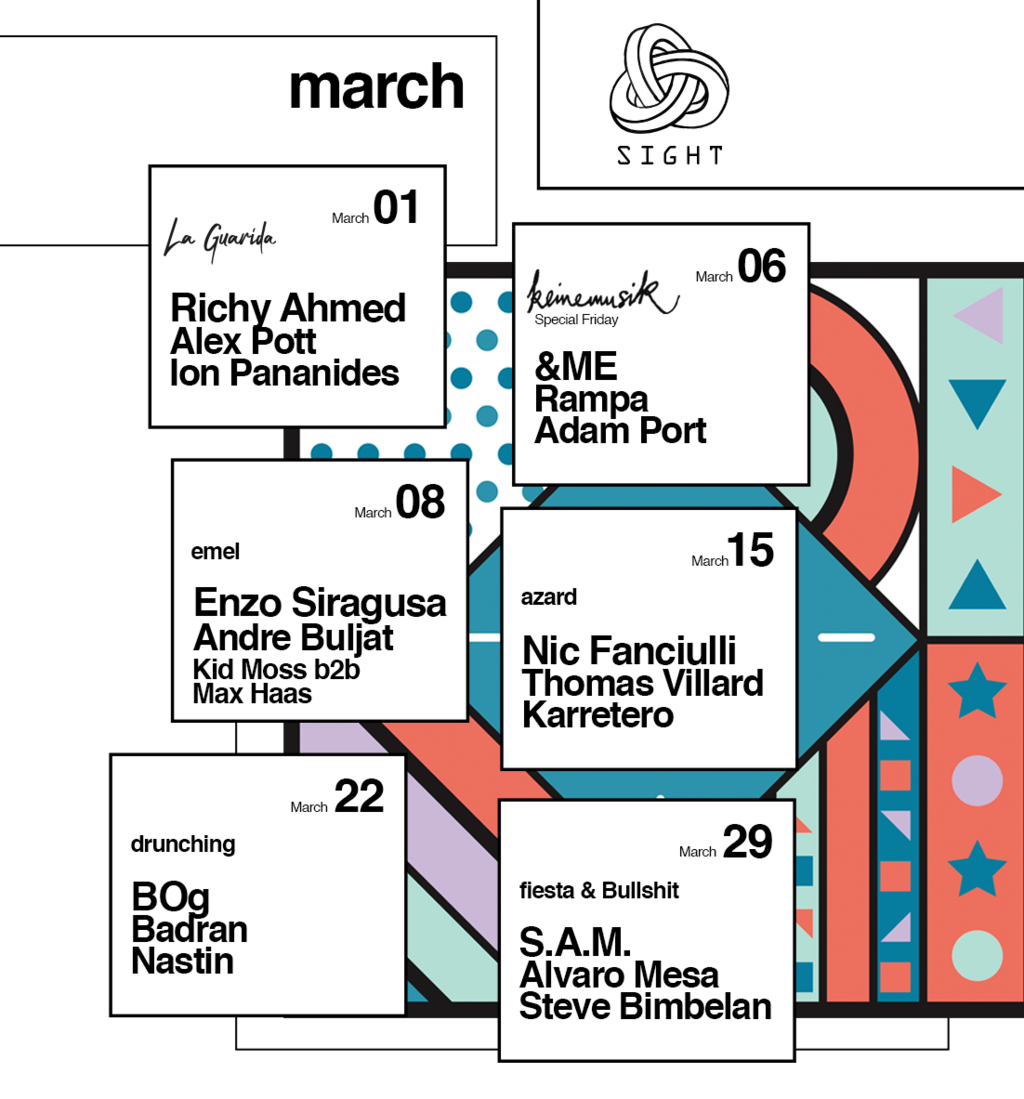 MARCH 02ND, 2020
Sight at Pacha Barcelona announces line ups for March
March will be hot at SIGHT! After a huge homecoming in February, to its rightful place in Pacha Barcelona, March arrives loaded with house and techno beats. 
March 1st: SIGHT pres. La Guarida w/ Richy Ahmed, Alex Pott, Ion Pananides
SIGHT starts the month in style, with one of the most beloved and interesting artists of the scene. Britain's Richy Ahmed will be the star of the first episode of SIGHT in March, bringing the most fun and avant-garde sounds. This 2020, he'll continue his love story with ANTS and has already confirmed his presence at huge festivals, such as Kappa Futur. He will be joined by Alex Pott and Ion Pananides. Get your tickets to see Richy Ahmed, along with Alex Pott and Ion Pananides, for La Guarida at SIGHT, by clicking here.
March 6th: SIGHT pres. Keinemusik Special Friday w/ &Me, Rampa, Adam Port
For the second date of the month, SIGHT doubles-up its day to Friday March 6th, to receive some very good old friends. Loaded with the most avant-garde sounds of the house scene, Keinemusik's crew – with &ME, Rampa and Adam Port representing – returns to their home in Barcelona to tear up Pacha's dance floor with their unique musical selection. Get tickets for Keinemusik's show at SIGHT with &Me, Rampa y Adam Port, here.
March 8th: SIGHT pres. Emel w/ Enzo Siragusa, Andre Buljat, Kid Moss b2b Max Hass
Continuing with the regular Sunday programming, SIGHT is bringing another old friend for the third date of the month. Enzo Siragusa is killing it this 2020, especially among the British tech scene. The FUSE and inFUSE's big boss returns to Pacha Barcelona to make the crowd dance till dawn. After the 10th anniversary of FUSE last year, Enzo and his platform are stronger than ever. He'll be joined by SIGHT's resident, Andre Buljat, and a b2b between Kid Moss and Max Hass. Get tickets for Enzo's show at SIGHT, with Andre Buljat and Kid Moss b2b Max Hass, here.
March 15th: SIGHT pres. AZAR w/ Nic Fanciulli, Thomas Villard, Karretero
Nic Fanciulli returns to his home in Barcelona to tear up SIGHT's dance floor, in collaboration with AZAR, and showcase his unique take behind the decks. He will be joined by Thomas Villard and our beloved Karretero. Get your tickets to see Nic Fanciulli at SIGHT, alongside Thomas Villard and Karretero, here.
March 22nd: SIGHT pres. Drunching w/ BOg, Badran, Nastin
Romania's BOg, one of the most interesting new artists in electronic music, arrives for the first time to SIGHT to showcase his unique take and perspective towards music. BOg arrives at SIGHT joined by the Lebanese-born, Spain-based Badran, and the Barcelona-based artist, Nastin. Get tickets for BOg's debut at SIGHT, with Badran and Nastin, here.
March 29th: SIGHT pres. Fiesta & Bullshit w/ S.A.M., Álvaro Mesa, Steve Bimbelan
And to close March, SIGHT joins forces with Fiesta & Bullshit magazine to bring a special showcase by the media outlet to Pacha Barcelona. This time, it will be S.A.M. the one in charge of the music, joined by a close friend of Fiesta & Bullshit, Álvaro Mesa, and SIGHT's resident, Steve Bimbelan. Get your tickets here.