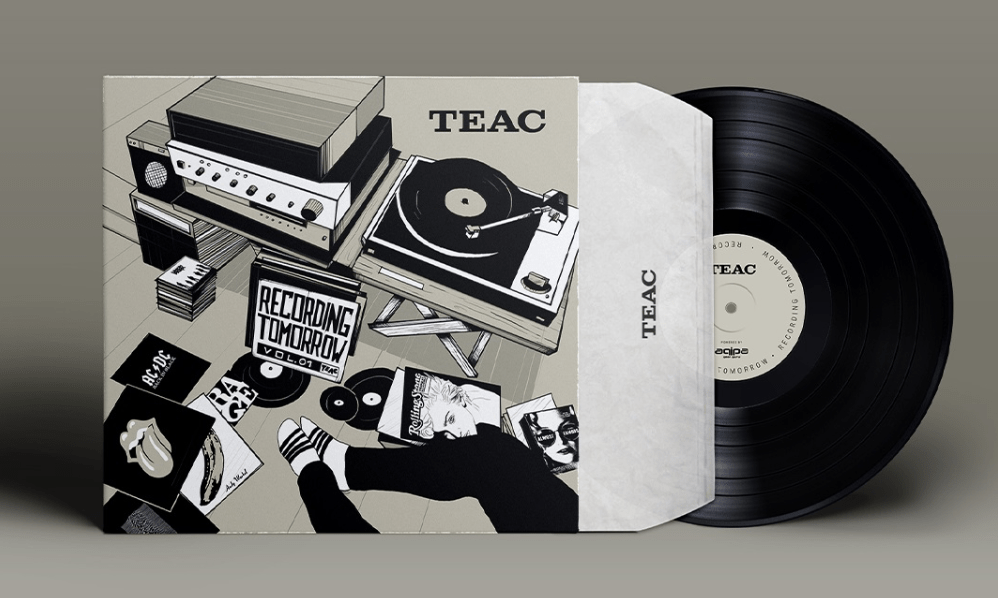 SEPTEMBER 01ST, 2022
TEAC & gigmit launch limited edition vinyl showcasing the music of tomorrow
Audio equipment manufacturer TEAC and live music platform gigmit have collaborated on a forward-thinking and innovative new project that showcases the music of tomorrow on a limited edition vinyl record.
Titled "Recording Tomorrow", the selection of tracks was curated by analysing music trends through data garnered on gigmit's online network, choosing six out of 200,000 international artists to capture the essence of the sound of the future. The record is set to be released at IFA Berlin 2022.
The partnership is remarkable in more ways than one; firstly in how gigmit used its knowledge of current music trends, data and its ever-growing pool of talented artists to manage the search for such acts. Meanwhile, TEAC brought their expertise in audio manufacturing to the table, breaking with traditional routes of releasing a record without being a record company.
While the record itself consists of different genres, the common theme of the tracks that were chosen is that these 'artists of tomorrow' address contemporary problems that society faces, in different ways. It was important to both TEAC and gigmit that the record would contain a voice that is representative of the next generation, and their desire to change the world for the better.
Featuring artists from all over the globe, the vinyl takes its listeners on a musical journey with contributions from Tribe Mafia (US), Telegraph (FR), Meresha (PL/US), Sean Haefeli (DE/US), Keitu the Songbird (GB) and KIDSØ (DE).
"I am thrilled to see this amazing record come to life out of a project that represents what we do at gigmit – open opportunities to the world of live acts. Huge thanks to the amazing team at TEAC for kicking this off," says Marcus Fitzgerald, CEO of gigmit.
Attracting the 'movers and shakers' of the music industry as well as showcasing important innovations, such as the first car radio and even mobile telephones – back in 1989 –  IFA Berlin was chosen as the perfect vehicle to launch the limited edition record.
"The original idea for the project emerged during one of many lockdowns as we were looking for ways to support artists and promote our unique portfolio of turntables. Recording Tomorrow VOL 01 is hopefully the start of a series of records between TEAC, gigmit and talented artists," says Hubert Eiter, CMO of Aqipa, the responsible and exclusive distributor for TEAC in Europe.
To celebrate the launch, TEAC is giving away a free album for every turntable purchased in September on www.teac-audio.com.