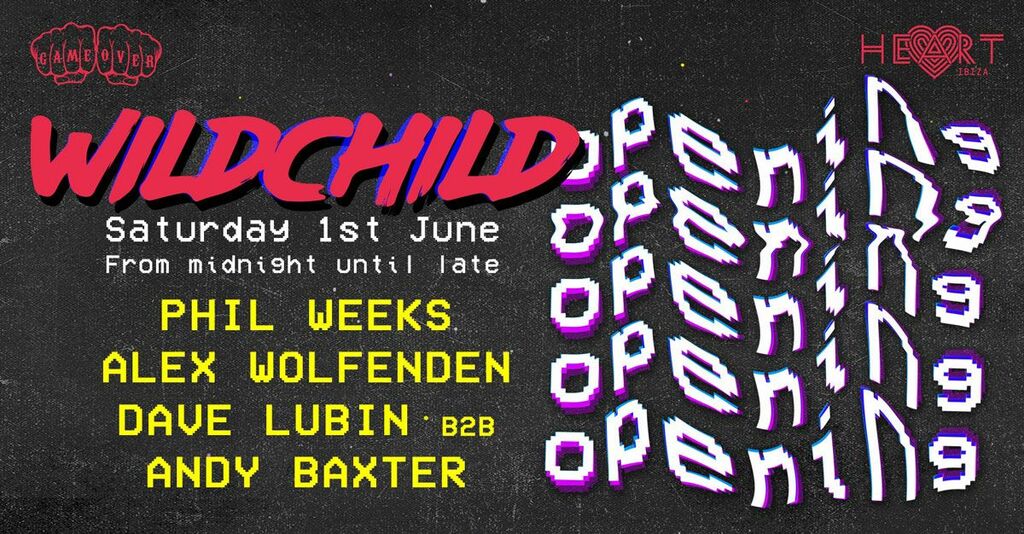 JUNE 01ST, 2019
WILDCHILD, the fresh new concept of Game Over, arrives at Heart Ibiza
The freshest party of the year kicks off on 25th May at its new home of HEART Ibiza and runs every Saturday through to 28th September, as Game Over sets out to make hearts go wild weekly.
Having already put on some of the most talked about events over the past few years such as One Night Stand, Pure Carl Cox, Lift and more, Game Over now bring us a fresh new concept with WILDCHILD. This new offering will see the brand dig deep into the core eclectic roots of our favourite tracks from classic house to hip hop and everything in between.
HEART Ibiza offers a new multisensory concept of entertainment generating a transgressive ambiance in which to get lost and discover a new way of enjoying the Ibizan nightlife offering a party with exclusive concepts and contents created specifically for that night.
A second chance at experiencing the raw spirit and energy of the decade that never ended.
We are the wild children of Ibiza. Forever exploring an island of magic souls and music. Making memories, chasing moments, living out fantasies. We stay young, fresh and foolish at heart. Mischievous souls living in the now.
Escaping from the banality of modern day living through our connections, friendships, surrounding art, music and fashion. We were all kids once and remember the innocence of play time, the rebellion of adolescence and the sheer thirst for naughtiness. The crazy exploration and pushing of boundaries and rules just so we could get our fix of cool.
We were all wild at heart once so wake your inner child.
A FUN FILLED PLAYGROUND OF CHILDHOOD MEMORIES – 80's 90's 00's
The 90s were all about breaking rules and pushing boundaries just so we could get our fix of cool. WildChild is a contemporary take on that sentiment, not a nostalgic fest, but rather a reboot of the 90s, in the 19s.
Those who lived it, miss it, those who missed it, crave it!
Buy your early bird tickets here
Bookings: reservas@heartibiza.com / +34 971 933 777    
#FollowyourHeart
Opening doors at 23,30 h.