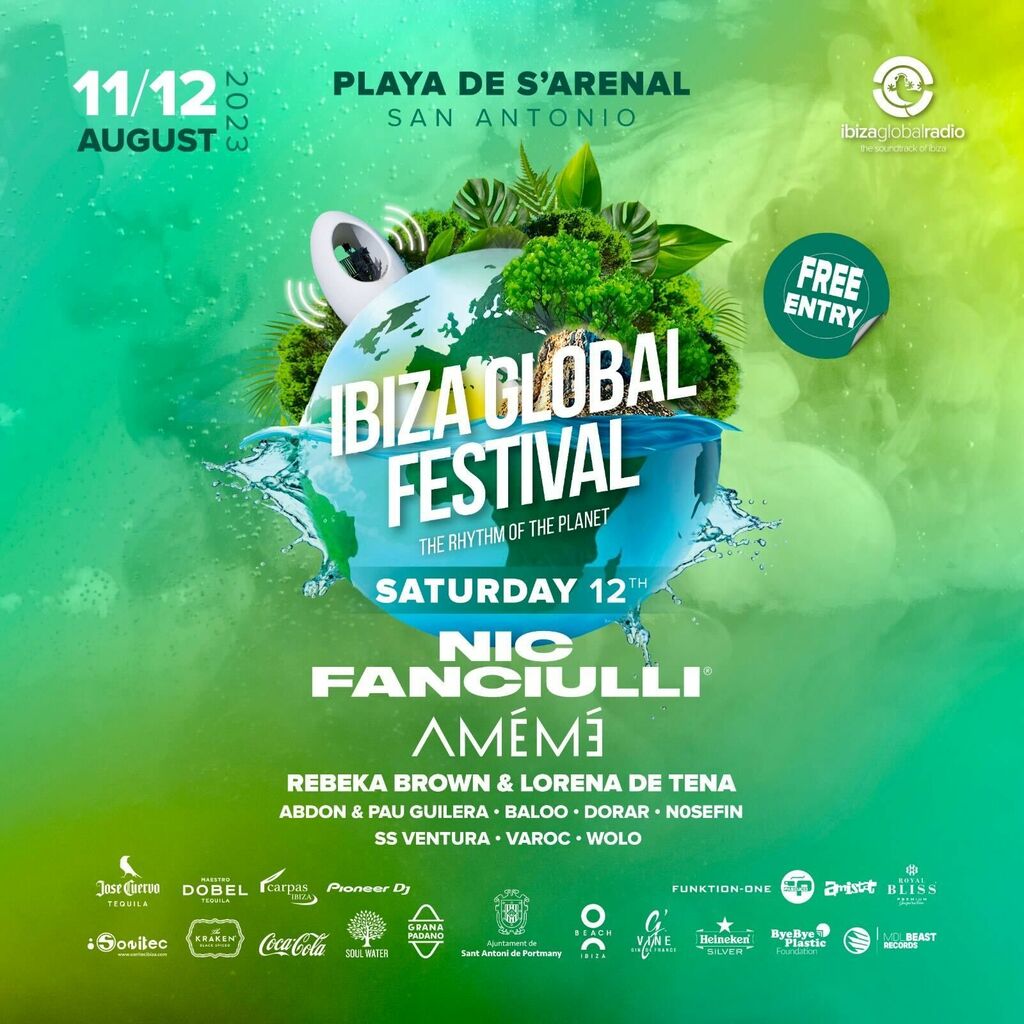 AUGUST 01ST, 2023
Ibiza Global Festival 2023: Nic Fanciulli Heads Up Day 2
As anticipation continues to gather momentum, the line-up for Day 2 of the Ibiza Global Festival 2023 has been revealed.
Returning to reclaim his headlining spot on the final day of the event is Nic Fanciulli, who closed the inaugural edition of the electronic music gathering in the same slot last summer.
He will be joined by an exciting and varied roster of international and local turntable talent, with the line-up also featuring a goosebump-inducing live performance by powerhouse vocalist Rebeka Brown.
Following on from Day 1 on August 11th, the dance marathon on the shores of San Antonio's S'Arenal beach continues from 5pm – 1am on Day 2.
DAY 2 LINE-UP: August 12th 2023
VAROC

A regular on the Ibiza Global Radio airwaves and the station's BEACH BEATS collaboration with LOS 40 DANCE, Varoc is often dubbed Europe's youngest professional DJ. The electronic music 'wunderkind' surprised his family when, aged only eight, he built a 'mixer' from cardboard.
At  just 11 years old, the young prodigy graduated from the prestigious INTED Electronic Music School in Madrid, where he trained in music computing, DJing and production. After playing at the inaugural edition of the Ibiza Global Festival in 2022, we are excited to welcome him back this year!

SS VENTURA

French producer SS Ventura became known in 2008 thanks to his DJ mixes, which offer a subtle blend of Techno and Tech House.
In just a few years, he became an important figure in Techno production by taking part in the '90s revival of Techno in Chicago, where he reached the top of Beatport – resulting in Carl Cox signing him to the iconic Bush Records label.
His titles are frequently listed among the top 100 DJs, and you will hear them played at international techno festivals all over the globe. With more than three albums, 27 EP releases, and numerous live tours, SS Ventura is a regular on the Ibiza Global platform.
ABDON & PAU GUILERA

The dynamic duo of Abdon & Pau Guilera sees two fresh tech house talents come together in the booth, both signed to ConceptOne.
Self-taught DJ Abdon's sound has been influenced by the likes of  Cuartero, The Martinez Brothers and Luciano. Moving between minimal and deep tech, he achieves a unique and elegant sound blended with vocals to keep the energy high all night long. He has already released on labels such as elrowmusic, Distance, Whoyostro, TBX, and Issues among others.

Meanwhile, Pau Guilera is an experienced national artist who belongs to the new generation of electronic music producers. Born in Barcelona, he has been  influenced by artists such as Hector from Vatos Locos and Loquace.

His sets have an underground vibe, blending delicate atmospheres with strong grooves. In the past year, he has signed with renowned electronic brand SIGHT, and since then has shared the DJ booth with well-known artists such as Marco Carola, The Martinez Brothers, and Michael Bibi among many others.
BALOO

As the Chief Creative behind the MDL BEAST platform, Baloo has been actively pushing the Saudi scene and underground for decades. He has played in the region and around the world in Bahrain, Dubai, Beirut, New York, Boston, London, Mykonos and Ibiza, when he brought a roster of artists to the first edition of the Ibiza Global Festival. Fusing a spectrum of house music styles that range from disco to deep to minimal, his sound ranges from sublime and ethereal to gritty and downright filthy.

N0SEFIN

Stockholm based DJ and producer N0sefin started her career on the London club scene in 2011, but only  recently under the N0sefin brand. With this name come elaborate house and tech house sets consisting of bouncy beats with an edge. She has played in every corner of the globe, including Ushuaïa Ibiza, Asia, South Africa, Ministry of Sound London and Ultra Miami to name a few.
REBEKA BROWN feat. LORENA DE TENA

Powerhouse vocalist Rebeka Brown returns to the Ibiza Global Festival stage after a rip-roaring debut in 2022, this year supported by the electric sound of guitarist Lorena de Tena. As one of the most recognisable voices in electronic music, expect goosebumps galore as she belts out house music greatest anthems.

WOLO

Italian DJ, producer, musician and multi-instrumental live performer WOLO has more than 20 years of experience in the music and entertainment industry.
He has performed at big international festivals around Europe and the Middle East, including Oblivion Festival in the UAE and the first edition of the Ibiza Global Festival. His sound combines house music tracks and live instruments including  flutes, pads and percussions. As part of the Ibiza Global Radio family, WOLO hosts the daily show Music Therapy, his mission, as always, to lift up his audience.

AMÉMÉ

The DJ and producer from West Africa splits his time between Brooklyn and Berlin, and channels his cultural roots and ancestry into everything he does. Specialising in Afro-leaning electronic music, with flourishes of tribal percussion and spiritual vocals built upon a foundation of contemporary deep house and tech, AMÉMÉ's DJ sets are eclectic, energetic and nourishing for the soul. As the head of One Tribe, a global community and brand identity centred on unity and a positive outlook, he tackles all his projects with an infectious energy and unwavering determination. Touring the globe, he is a regular in hotspots for electronic music including Ibiza, Miami, Berlin, New York, Paris, Mykonos and Tulum as well as events like Burning Man.
11pm – end NIC FANCIULLI
International DJ, Grammy-nominated producer, and owner of Saved Records, Nic Fanciulli has remained one of the UK's finest exports in electronic music throughout the last decade. After a rip-roaring closing set at the Ibiza Global Festival 2022, he returns this year to reclaim his spot at the top of the Day 2 line-up. Nic has produced a plethora of solo tracks to huge critical acclaim, as well as working with artists as diverse as Underworld, Kylie Minogue, and Loco Dice. His signature infectious tech house sound with an underground edge is bound to keep the dancefloor going until the very last beat.
For further information and VIP table reservations please visit linktr.ee/ibizaglobalfestival.